BJA Journals at the 70th Annual PostGraduate Assembly 2016
The BJA are looking forward to seeing you at this year's Annual PGA in New York.
PGA Special Issue | BJA Panel Session | Virtual Issue
---
2016 BJA PGA Special Issue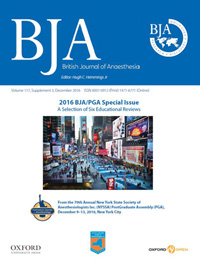 The British Journal of Anaesthesia and PGA have once again collaborated to create a PGA special Issue featuring 6 clinically relevant review articles written by experts selected from this PGA70.
The Special Issue is now live and available to read for free online. Read now.
Read the BJA Special Issues for previous PGA meetings, dating back to 2009.
---
BJA Panel: Perioperative Brain Injury and Protection
Sunday 11th December, 2016 | 08:30-12:00 | South Ballroom, 6th Floor
Panel Moderator: Hugh C. Hemmings, Jr., M.D., Ph.D.
Presentations:
Anesthetic Neurotoxicity: Do Our Drugs Kill Brain Cells? - Hugh C. Hemmings, Jr., M.D., Ph.D.
Mechanisms and Risk Factors of Postoperative Delirium and Cognitive Dysfunction - Deborah J. Culley, M.D.
Neurologic Monitoring and Postoperative Delirium - Michael S. Avidan, M.B., B.Ch., FCASA
Perioperative Cognitive Protection - Stacie G. Deiner, M.D.
After completion of this session, the participant will be able to:
Understand anesthetic neurotoxicity;
Describe the causes and incidence of postoperative dysfunction/delirium;
Develop strategies to minimize postoperative cognitive dysfunction/delirium.
To complement the session read the specially collated Virtual Issue on 'Preoperative Brain Injury and Protection'.
For a full programme of PGA sessions please visit the NYSSA's website.
---
Virtual Issue: Perioperative Brain Injury and Protection
Articles freely available to read online now
Available with British Journal of Anaesthesia subscription, sign in now or subscribe
---
Visit the Oxford University Press booth to pick up copies of the journals.