Arrhythmias
Quinn, T. Alexander, Cardiovasc Res (2015) 108(1) doi: 10.1093/cvr/cvv203 - Click here to view the abstract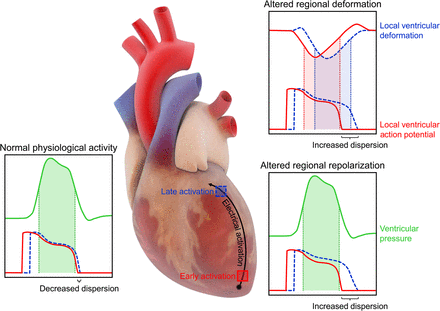 Effects of cardiac mechano-electric coupling on ventricular repolarization. With normal physiological activity in the healthy heart, the effect of left ventricular pressure on repolarization differs between early and late activated regions, leading to decreased dispersion of repolarization. In cardiac pathologies, where regional ventricular deformation or repolarization is altered, the temporal relation of local action potential phase to mechanical activity or ventricular pressure is shifted, leading to increased dispersion of repolarization.
Wagner, Michael, Cardiovasc Res (2015) 107(1) doi: 10.1093/cvr/cvv163 - Click here to view the abstract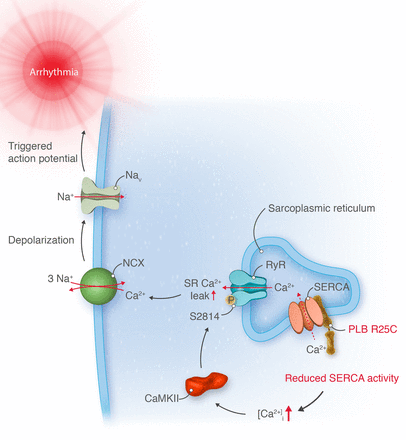 Proarrhythmic mechanisms in PLB R25C myocytes. CaMKII, Ca2+/calmodulin-dependent protein kinase; NaV, fast, voltage-dependent Na+ channel; NCX, Na+/Ca2+ exchanger; P, phosphate; PLB, phospholamban; RyR, ryanodine receptor 2; SERCA, sarco/endoplasmatic reticulum Ca2+ ATPase; SR, sarcoplasmic reticulum.
Gillet, Ludovic, Cardiovasc Res (2014) 104(2) doi: 10.1093/cvr/cvu221 - Click here to view the abstract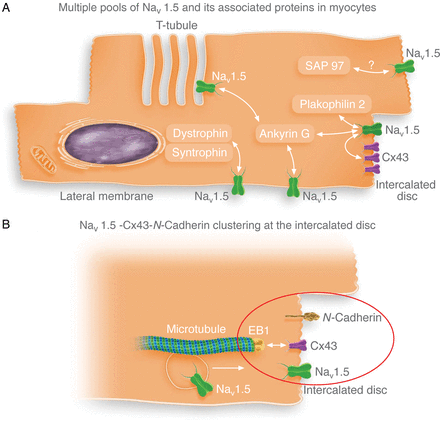 Multiple pools of NaV1.5 in cardiac myocyte. (A) Different NaV1.5 pools have been identified at the ID, lateral membrane, or t-tubules of cardiac cells, depending on which partner proteins they interact. It has to be noted that, in each compartment, sodium channels also cluster into highly confined functional nanodomains. (B) A model proposed by Agullo-Pascual et al (Cardiovasc Res. 2014 ;104(2):371-81) for NaV1.5 cluster formation at the ID: Cx43 regulates EB1 capture, thus allowing for NaV1.5 delivery to N-cadherin-rich sites. The red circle defines the different partner proteins clustering at the ID.