Atherosclerosis
Temmerman, L, Cardiovasc Res (2015) 106(3) doi: 10.1093/cvr/cvv133 - Click here to view the abstract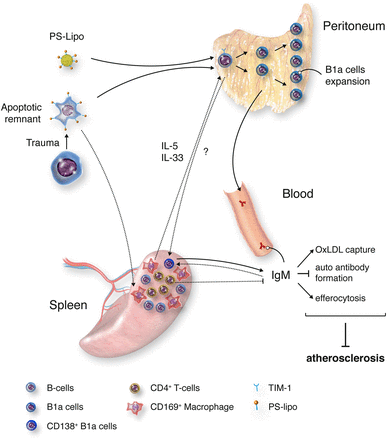 Apoptotic cells expose phosphatidyl serine (PS) residues on the membrane. Artificial PS-coated liposomes are able to serve as apoptotic-cell-mimics. Administration of apoptotic cells or PS liposomes will promote B1a-cell activity and expansion in the peritoneum, possibly through interaction of PS with TIM-1 receptors. Activated B1a cells will produce increased levels of natural IgM antibodies, which are secreted into the blood where they confer protection against atherosclerotic plaque formation by (i) sequestering oxidized LDL, (ii) inducing elimination of apoptotic cells, and (iii) reducing autoantibody formation, in part by interaction of IgM/OxLDL immune complexes with Fc(micro) receptors on other immune cells. Apoptotic cell and PS liposome dependent B1a cell activation implicates the spleen by a still unknown mechanism; although a role of the recently identified splenic CD138+ B1a cells, representing a major source of IgM, cannot be excluded, it seems more likely that this involves IgM/Fc(micro)R induced tuning of T/B cell status in spleen or the participation of (splenic) CD169+ macrophages, which are primarily responsible for PS-marked cells/liposomes engulfment and subsequent release of the B1a mitogen IL-5.
Libby, Peter, Cardiovasc Res (2015) 105(1) doi: 10.1093/cvr/cvu245 - Click here to view the abstract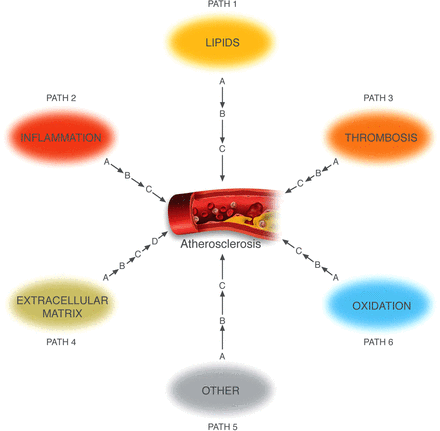 Can we reconcile the 'knock-out conundrum' in experimental atherosclerosis with a 'linear' concept of disease pathogenesis? Traditional linear thinking about biological mechanisms involves the contribution of single mediators (represented by the letters connected by arrows) operating in a succession of steps in an often hierarchical pathogenic path. Several such orthogonal linear pathways may converge to promote disease pathogenesis. Merging this traditional concept with the results of single-gene inactivation experiments suggests that attacking just a few targets should eradicate atherosclerosis, a reductio ad absurdum.
Libby, Peter, Cardiovasc Res (2015) 105(1) doi: 10.1093/cvr/cvu245 - Click here to view the abstract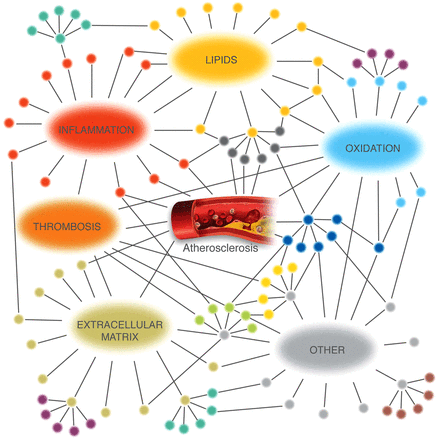 Interacting nodes and networks, not linear pathways, may operate during the pathogenesis of atherosclerosis. An alternative concept suggested by the systems biology approach postulates nodes or clusters of pathogenesis that interact in complex and multidimensional ways not taken into account by our traditional linear constructs. The nodes may constantly vary, adjusting for changing conditions and trying to maintain homeostasis and respond to various endogenous or environmental stimuli.
Christ, Anette, Cardiovasc Res (2014) 103(4) doi: 10.1093/cvr/cvu187 - Click here to view the abstract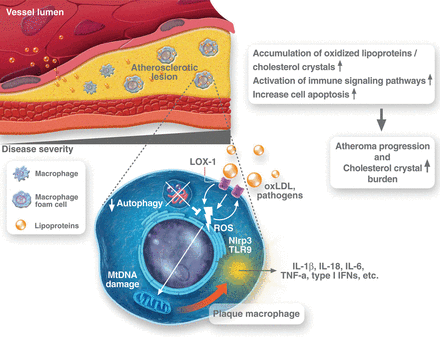 Schematic depiction of the link between LOX-1 expression (for example, through oxLDL, cholesterol crystals, or pathogenic antigens), cellular-mediated oxidative stress (ROS formation), mtDNA damage, escape from autophagy, and inflammatory signalling pathway activation (Nlrp3 inflammsome, TLR9).
Orekhov, Alexander N., Cardiovasc Res (2014) 103(4) doi: 10.1093/cvr/cvu168 - Click here to view the abstract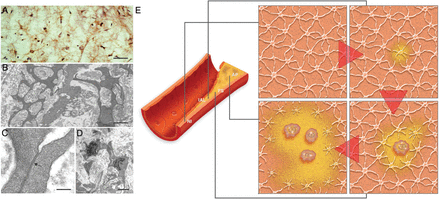 Pericyte-like cells in the normal (non-atherosclerotic) intima (A–C) and in atherosclerotic plaque (D) of the human aorta. (A) Network formed by 3G5-positive cells in the subendothelial layer. Immunohistochemistry; intimal 'en face' tissue specimen; immunoperoxidase technique. (B) Identification of the cell network formed by the myofibril-like filament containing cells in the subendothelial layer, visualized by means of electron microscopy (EM). (C) Gap junction specialized contact between processes of two myofibril-like filament containing cells is shown by the arrow (EM). (D) Disorganization of cell network in an atherosclerotic lesion (EM). Scale bars = 10 µm (A), 4 µm (B), 0.5 µm (C), 6 µm (D). (E) A schematic representation of the sequence of events relating to the alteration (NI, IAL, and FS) and complete disorganization (AP) of the network formed by intimal pericyte-like cells during the development of atherosclerotic lesion. NI, normal intima; IAL, initial atherosclerotic lesion; FS, fatty streak; AP, atherosclerotic plaque.
Orekhov, Alexander N., Cardiovasc Res (2014) 103(4) doi: 10.1093/cvr/cvu168 - Click here to view the abstract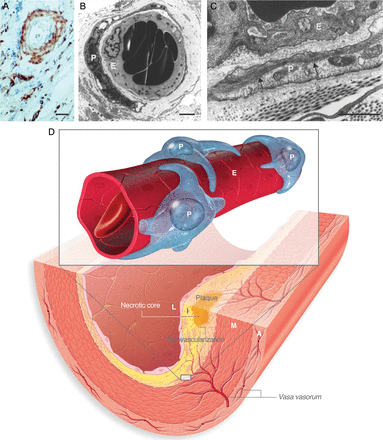 Pericytes in a zone of neovascularization in atherosclerotic plaque of the human aorta (A–D). (A) Visualization of localization of 3G5-positive cells by the immunoperoxidase technique. Note the presence of some 3G5-positive cells, located independently from the microvessel. (B) Typical localization of pericyte (P) in association with microvessel. E, endothelial cell; EM, electron microscopy. In (C), arrows show the presence of myofibril-like filaments in a process of pericyte (P). Scale bars = 10 µm (A), 4 µm (B), 1.5 µm (C). (D) A schematic representation of the association of plaque neovascularization with the adventitial vasa vasorum and a fragment of a neovascularization microvessel, surrounded by pericytes (P). E, microvessel endothelium.
Orekhov, Alexander N., Cardiovasc Res (2014) 103(4) doi: 10.1093/cvr/cvu168 - Click here to view the abstract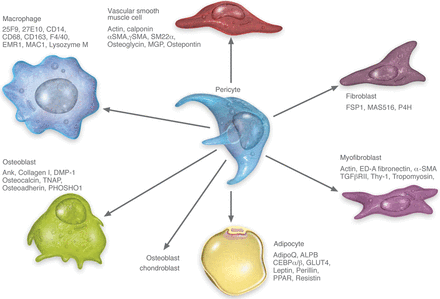 Differentiation plasticity of pericytes. The scheme shows what expression markers (from different cell types) can be expressed by differentiating pericytes and by the cells that can originate from pericytes.
Orekhov, Alexander N., Cardiovasc Res (2014) 103(4) doi: 10.1093/cvr/cvu168 - Click here to view the abstract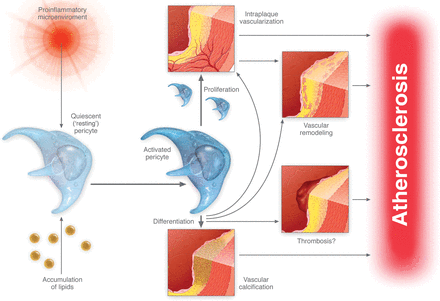 Pathogenic pathways by which arterial pericytes may contribute to atherosclerosis. Deposition of atherogenic lipids and local inflammation stimulate phenotypic changes in normal 'resting' pericytes. The cells become activated and acquire the ability to proliferate, migrate, and differentiate to other cell types. Indeed, pericytes may contribute to intraplaque neovascularization, vascular remodelling, vascular calcification, and probably thrombosis, e.g. major pathogenic mechanisms associated with the evolution of the atherosclerotic lesion.
Steffens, Sabine, Cardiovasc Res (2014) 102(1) doi: 10.1093/cvr/cvu041 - Click here to view the abstract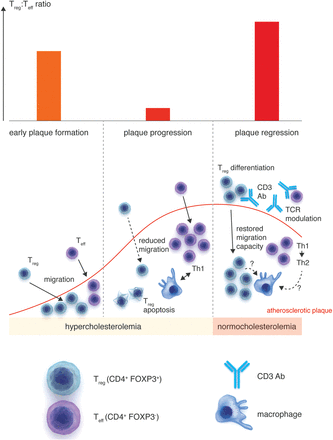 Dynamics of Treg and effector T cells in hypercholesterolaemic mouse models of atherosclerosis and plaque regression induced by dietary reversal of hypercholesterolaemia and anti-CD3 administration. Numbers of Tregs within aortas increase in the early phase of atherogenesis, but decrease over time with growing lesion size.11 The decrease in aortic Tregs is a consequence of enhanced frequency of Treg apoptosis and reduced migratory capacity, thereby leading to increasing numbers of Tregs in the spleen. On the other hand, there is a continuous increase in the number of CD4+ effector T cells (Teff) within the aorta, thereby resulting in an unfavourable ratio between Tregs and effector T cells (Treg:Teff). Reversal of hypercholesterolaemia can prevent the loss of Tregs within the plaque. Therapeutic intervention with anti-CD3 antibody enhances plaque regression, possibly by transient modulation of Teff function and/or regulatory T-cell activation. It is unclear whether there is a direct cross-talk between macrophages and Tregs that contributes to plaque regression and stabilization.
de Jager, Saskia C. A., Cardiovasc Res (2013) 100(1) doi: 10.1093/cvr/cvt199 - Click here to view the abstract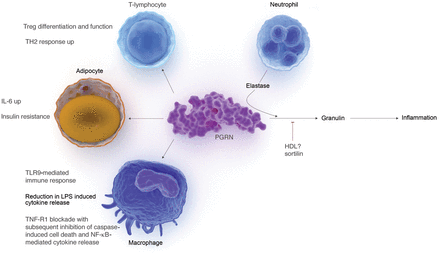 The immune-modulatory properties of PGRN in inflammatory cell types. The immunomodulatory properties of PGRN depend on the stage and determinants of the inflammatory response. For instance, PGRN is a modulator of adaptive immunity by promoting regulatory T cell differentiation, but also enhance T helper 2 (TH2) responses. In macrophages PGRN can dampen LPS-induced cytokine release, while it was also suggested PGRN can bind to toll-like receptor 9 (TLR9) ligands thereby optimizing efficient TLR9 receptor activation, and TLR4- and TLR9-induced inflammation. Via its interaction with TNF-R1, PGRN can inhibit caspase-induced cell death and NF-κB-mediated cytokine release. In general PGRN is regarded anti-inflammatory; however, PGRN has pro-inflammatory effects in adipocytes, where it deteriorates IL-6-dependant insulin resistance. Once secreted, PGRN can be cleaved into pro-inflammatory granulin by many proteases, such as neutrophil-derived elastase. Progranulin cleavage is controlled by the glycoprotein Sortilin, but may also be inhibited by HDL.
Passacquale, Gabriella, Cardiovasc Res (2016) 109(1) doi: 10.1093/cvr/cvv227 - Click here to view the abstract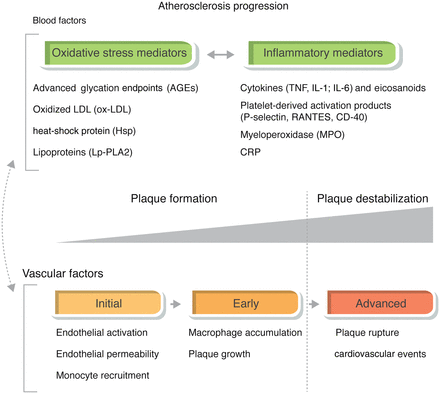 Emerging biomarkers for atherosclerosis. A number of biomarkers indicative of increased oxidative stress and systemic inflammation are detectable in the peripheral blood of cardiovascular patients. Their increase in the circulation throughout the atherosclerotic process has been reported in many independent clinical trials. However, their ability to reflect stage of disease, with particular reference to plaque destabilization that mainly derives from the degree of arterial inflammation remains poorly established.
Passacquale, Gabriella, Cardiovasc Res (2016) 109(1) doi: 10.1093/cvr/cvv227 - Click here to view the abstract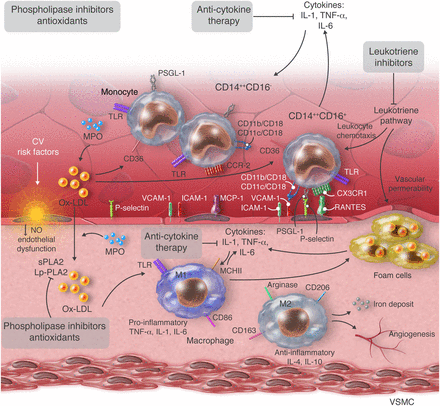 Monocyte and macrophage heterogeneity. The 'classical' (CD14++CD16−) and 'intermediate' (CD14++CD16+) subsets of circulating monocytes display a distinct pattern of expression of surface molecules that mediate their interaction with the activated endothelium and that are involved in cell activation in response to pro-atherogenic stimuli (i.e. Ox-LDL). This may lead to a distinct ability of the different subsets to infiltrate the arterial wall and to sustain systemic inflammation. Compared with classical monocytes, CD14++CD16+ cells express higher levels of scavenger receptors (i.e. CD36 and TLR) that, upon activation, lead to release of pro-inflammatory mediators. However, classical monocytes mainly produce MPO in response to TLR activation, while the intermediate subset releases pro-inflammatory cytokines (IL-1, IL-6, and TNFα). Also, these latter express increased levels of adhesive molecules (i.e. CD11b and CD11c) compared with CD14++CD16− cells, which are able to interact with ICAM-1 and VCAM-1 expressed on dysfunctional endothelium. Distinct monocyte subsets also respond differently to chemotactic molecules such as MCP-1 and RANTES that specifically engage CCR2 and CX3CR1 expressed on classical and intermediate subsets, respectively. Heterogeneity in the macrophage component of plaques also has been detected. The M1 subtype is primarily involved in ox-LDL uptake with consequent formation of foam cells and release of pro-inflammatory cytokines; while the M2 subtype displays iron-handling capacities and the ability to synthesize anti-inflammatory cytokines. Anti-inflammatory drugs have the potential to modulate both monocyte and macrophage biological activity by targeting specific pro-inflammatory mediators as indicated in the diagram, thus modulating both systemic and local arterial inflammation. CV, cardiovascular; NO, nitric oxide; ox-LDL, oxidized low-density lipoprotein; sPLA2, soluble phospholipase A2; TLR, toll-like receptor; CCR2, C-C chemokine receptor type 2; VCAM, vascular cell adhesion molecule; ICAM, intracellular adhesion molecule; PSGL-1, P-selectin glycoprotein ligand-1; CX3CR1, CX3C chemokine receptor 1; RANTES, Regulated on Activation, Normal T Expressed and Secreted.
Passacquale, Gabriella, Cardiovasc Res (2016) 109(1) doi: 10.1093/cvr/cvv227 - Click here to view the abstract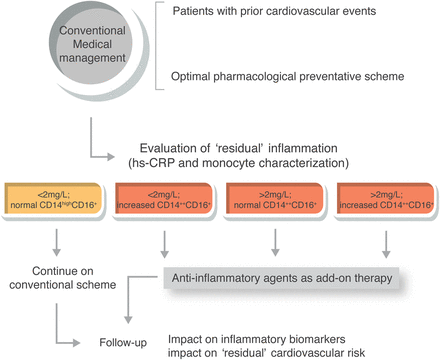 The relevance of inflammatory biomarkers in the development of immunomodulatory strategies for secondary cardiovascular prevention. Evaluation of inflammatory biomarkers, such as high-sensitivity C-reactive protein (hs-C-reactive protein), and monocyte phenotype, could support stratification of patients accordingly to their inflammatory profile. Anti-inflammatory strategies could be tested in selected subgroups of patients in whom 'residual' inflammation (as defined by increased hs-C-reactive protein and/or CD14++CD16+ levels) persists despite standard of care. The efficacy of immunomodulatory agents can be established in selected subpopulations in terms of impact on both clinical outcomes and inflammatory biomarkers, thus clarifying the relationship between 'residual' inflammation and 'residual' cardiovascular risk.
De Jager, Saskia C. A.;, Cardiovasc Res (2016) 110(1) doi: 10.1093/cvr/cvw040 - Click here to view the abstract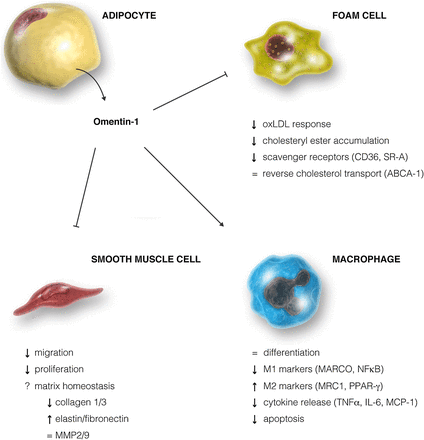 Effects of Omentin-1 on atherosclerosis-associated cell types. Omentin-1 inhibits oxLDL-induced foam cell formation via down-regulation of scavenger receptors. Macrophage differentiation is not affected, while Omentin-1 can skew macrophage polarization towards M2 phenotype and inhibits the release of pro-atherogenic factors. Migration and proliferation of vascular smooth muscle cells is controlled by Omentin-1, while its effect on matrix homeostasis is not completely clear.
Jaba Gamrekelashvili, Cardiovasc Res (2016) 112(2) doi: 10.1093/cvr/cvw207 - Click here to view the abstract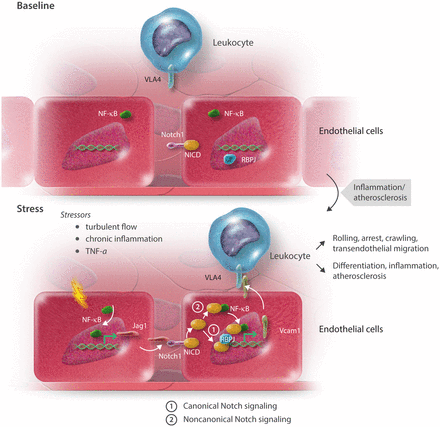 Endothelial Notch signalling regulates leucocyte homing in atherosclerosis. Intraendothelial activation of Notch signalling by Jag1 controls Vcam1 expression via NF-κB, which is reported to involve canonical (1) and non-canonical (2) actions of Notch.