Heart failure
Balligand, Jean-Luc, Cardiovasc Res (2015) 107(4) doi: 10.1093/cvr/cvv189 - Click here to view the abstract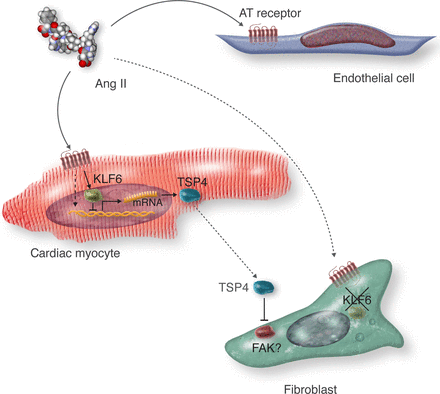 KLF6-regulated myocyte-to-fibroblast crosstalk through TSP4. Angiotensin II activates the AT receptor in cardiac myocytes, fibroblasts, and endothelial cells. In cardiac myocytes, Ang II increases the production of TSP4, that is then secreted in the interstitium; there, TSP4 inhibits activation of fibroblasts, possibly through inhibition of integrin-dependent FAK activation, thereby reducing fibrosis. However, Ang II concurrently activates the transcription factor KLF6 and its association to the promoter of the TSP4 gene, where KLF6 represses TSP4 expression. This happens exclusively in cardiac myocytes, not in fibroblasts. This results in attenuation of TSP4 production and increased fibrosis. The participation of endothelial cells in this KLF6-orchestrated regulation is not determined.
La Gerche, Andre, Cardiovasc Res (2015) 107(1) doi: 10.1093/cvr/cvv165 - Click here to view the abstract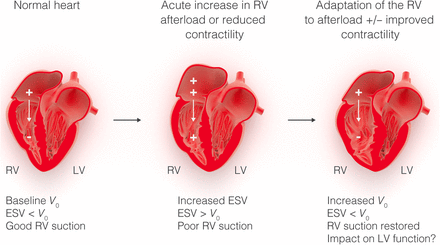 RV passive recoil and adaptation. The relation between RV ESV and the volume at which the pressure equals zero atmospheric pressure (V0) is the key determinant of RV suction. An acute increase in RV afterload prevents the RV to contract down below V0, which attenuates suction. As a means of adaptation, the RV dilates, which resets the V0, so that suction can be restored. Part of the means by which the RV dilates is by a leftward septal shift. This is likely to negatively impact on LV diastolic filling, but this remains to be explored.
Di Lisa, Fabio, Cardiovasc Res (2015) 106(1) doi: 10.1093/cvr/cvv050 - Click here to view the abstract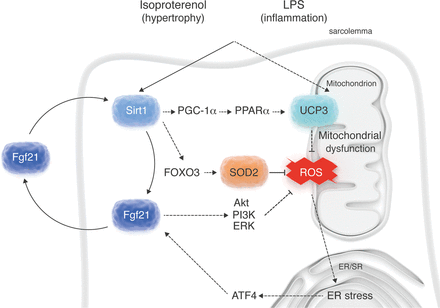 Fgf21 autocrine loop to antagonize oxidative stress related to cardiac hypertrophy or inflammation. The scheme is based upon the work of Planavila et al (Cardiovasc Res. 2015;106(1):19-31). Accordingly, as illustrated by solid arrows, in cardiac myocytes isoproterenol or LPS stimulate the synthesis and release of Fgf21. In this autocrine loop, Fgf 21 activates Sirt1 that promotes Fgf21 synthesis. The interaction between Fgf21 and Sirt1 results in a decreased ROS accumulation due to the increased expression of SOD2 and UCP3. The dotted lines illustrate the hypothetical pathways by which oxidative stress might be related to the Fgf21 autocrine loop. As detailed in the text, stimuli associated with cardiac hypertrophy and inflammation might induce mitochondrial dysfunction and production of ROS resulting in ER stress-dependent ATF4 activation. The consequent increase in Fgf21 levels would stimulate the activity of survival kinases, such as Akt, PI3K, and ERK, that prevent mitochondrial dysfunction. On the other hand, downstream of the Fgf21 autocrine stimulation Sirt1 is likely to deacetylate and activate both FOXO3 and PGC-1α, resulting in an increased expression of SOD2 and UCP3, respectively.
Ho, Carolyn Y., Cardiovasc Res (2015) 105(4) doi: 10.1093/cvr/cvv025 - Click here to view the abstract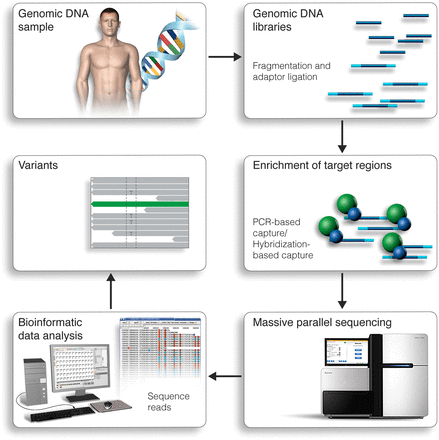 NGS Strategy. It involved three major steps: library preparation from genomic DNA, enrichment of target regions by hybridization, and massively parallel sequencing of all captured fragments.
Ho, Carolyn Y., Cardiovasc Res (2015) 105(4) doi: 10.1093/cvr/cvv025 - Click here to view the abstract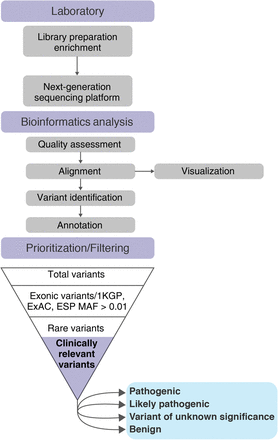 Workflow used to sequencing and filtering the variants detected by NGS. After library preparation and sequencing, bioinformatics analysis is performed. Variants identified are further prioritized and filtered to identify those likely to be clinically relevant. Variants are typically classified into four classes: pathogenic, likely pathogenic, VUS, or benign. 1KGP, 1000 Genomes Project; ESP, Exome Sequencing Project; ExAC, Exome Aggregation Consortium; MAF, minor allele frequency.
Ho, Carolyn Y., Cardiovasc Res (2015) 105(4) doi: 10.1093/cvr/cvv025 - Click here to view the abstract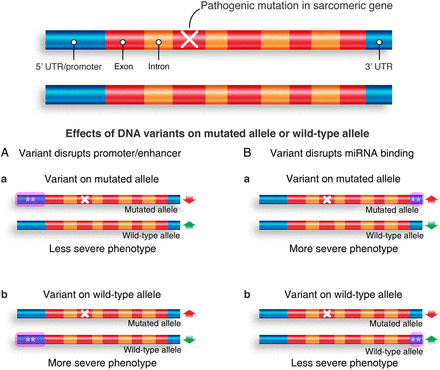 Schematic overview of locally acting variants on different positions (A, B, C, D) with influence on the mutated allele and the wild-type counterpart allele (red arrows), and the subsequent expected effect on the phenotype (less or more severe). UTR, untranslated region.
Olivotto, Iacopo;, Cardiovasc Res (2015) 105(4) doi: 10.1093/cvr/cvv024 - Click here to view the abstract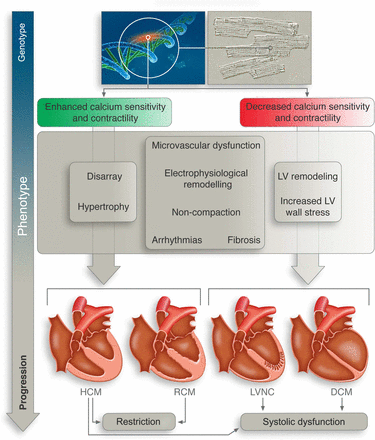 From genotype to phenotype and disease progression. Mutations in cardiac sarcomere protein genes are associated with distinct clinical phenotypes, classified as HCM, DCM, and RCM and LVNC. Sarcomere mutations causing HCM and DCM have opposite functional effects at the myofilament level; RCM appears at the genetic and biophysical level to be within the spectrum of HCM, whereas LVNC is often associated with LV remodelling and dysfunction resembling DCM. These four clinical entities share several downstream manifestations, ultimately crucial in determining clinical course and outcome.
Olivotto, Iacopo;, Cardiovasc Res (2015) 105(4) doi: 10.1093/cvr/cvv024 - Click here to view the abstract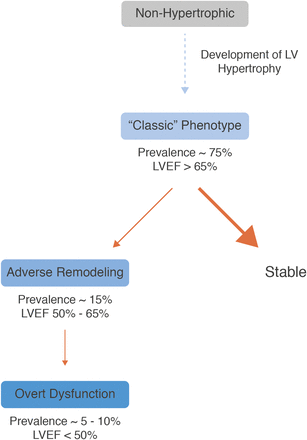 Stages of HCM. HCM is characterized by variable clinical manifestations over time. Although HCM is usually not a progressive disease and affords normal longevity, a life-long remodelling process may occur within the myocardium, leading to severe LV dysfunction in a minority of patients. Four stages of disease have been proposed (see text for details). Thickness of the orange lines reflects prevalence of each stage in HCM cohorts. LVEF indicates left ventricular ejection fraction. Modified from Olivotto et al. Circ Heart Fail 2012;5:535–546.
Eschenhagen, Thomas, Cardiovasc Res (2015) 105(4) doi: 10.1093/cvr/cvv017 - Click here to view the abstract
Principle of making cardiomyocytes from somatic cells.
Eschenhagen, Thomas, Cardiovasc Res (2015) 105(4) doi: 10.1093/cvr/cvv017 - Click here to view the abstract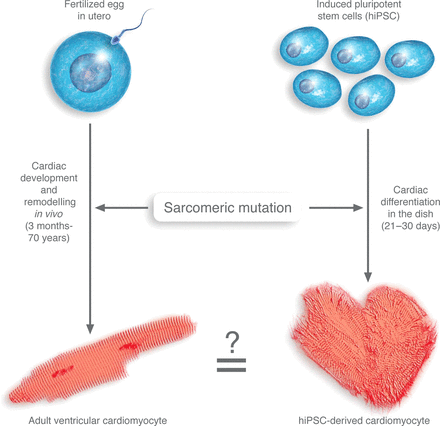 The inherent assumption of using hiPSC for modelling inherited sarcomeric cardiomyopathies is that the effect of the sarcomeric mutations during cardiac development in vivo is the same as its effect on cardiac induction in the dish, which cannot be valid. Only certain aspects of disease pathology will be approachable by the hiPSC technology.
Tardiff, Jil C., Cardiovasc Res (2015) 105(4) doi: 10.1093/cvr/cvv023 - Click here to view the abstract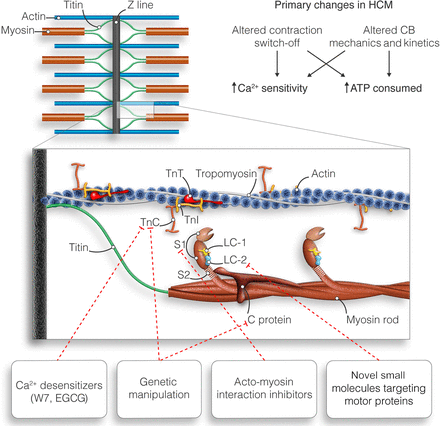 Several myofilament proteins may be target of treatment to reverse primary functional changes of the sarcomeres. CB, cross-bridge; TnC, troponin C; TnI, troponin I; TnT, troponin T; LC, light chain; C protein, myosin-binding protein C. Modified from Ferrantini et al, J Cardiovasc Transl Res. 2009;2(4):441-51
Tardiff, Jil C., Cardiovasc Res (2015) 105(4) doi: 10.1093/cvr/cvv023 - Click here to view the abstract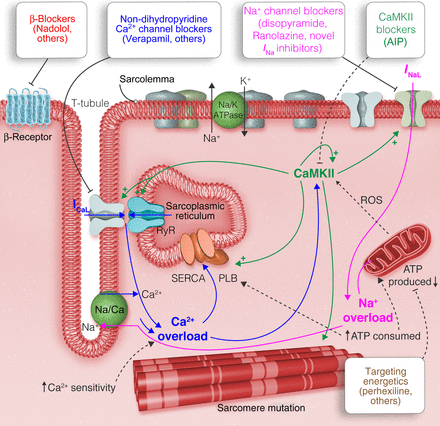 Treatment of sarcomeric cardiomyopathies may be directed at non-sarcomeric targets such as ion channels, β-adrenergic receptors, and Ca2+/CaMKII. In addition, metabolic therapy, such as perhexiline, may be targeted at the mitochondria to improve the energetic status of the heart. Modified from Coppini et al, Circulation. 2013;127(5):575-84
He, Zuowen, Cardiovasc Res (2015) 105(3) doi: 10.1093/cvr/cvv018 - Click here to view the abstract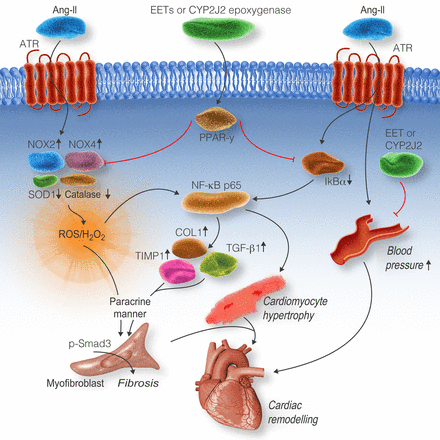 Schematic of mechanisms on CYP2J2- and EET-mediated signalling in response to Ang-II-induced cardiac remodelling. Treatment with Ang-II induces oxidative stress through increasing expression of NOX2 and NOX4, and decreasing expression of SOD1 and catalase. The elevation of oxidative stress promotes NF-κBp65 nuclear translocation leading to cardiomyocyte hypertrophy and enhanced expression of collagen type I, TGF-β1, and TIMP1. This leads to an increase in the release of cardiomyocytes paracrine factors (H2O2, TIMP1, and TGF-β1) that stimulate cardiac fibroblast activation and TGF-β1-smad signalling. Ultimately, cardiac hypertrophy and fibrosis occurs. Cardiomyocyte-specific expression of CYP2J2 or treatment with EETs alleviates oxidative stress-mediated NF-κB p65 nuclear translocation by regulating oxidative stress-related protein expression through PPAR-γ activation. This leads to a reduction in cardiomyocyte hypertrophy, oxidative stress, and expression of collagen I, TIMP1, and TGF-β1. As a result, the release of cardiomyocytes paracrine factors (H2O2, TIMP1, and TGF-β1) is reduced. Subsequently, activation of cardiac fibroblasts and cardiac fibroblast TGF-β1-smad signalling are attenuated leading to a protective effect against Ang-II-induced cardiac remodelling. In addition, CYP2J2 causes a slight reduction in blood pressure and also regulates PPAR-γ/IkBα/p65 signalling that contributes to its protective effects.
Li, Mingchuan, Cardiovasc Res (2015) 105(2) doi: 10.1093/cvr/cvu261 - Click here to view the abstract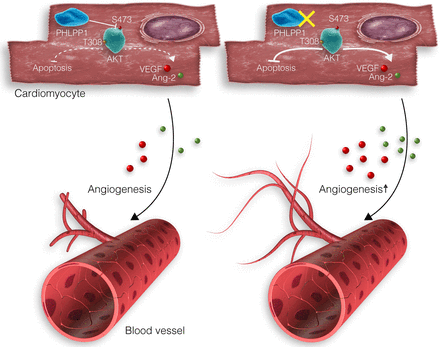 Involvement of PHLPP1 in Akt-related cardiac processes. (Left) PHLPP1 dephosphorylates Akt on Ser473 and inhibits its activity. The pro-angiogenic and pro-survival Akt-dependent signalling remains low. (Right) Blocking of PHLPP1 releases the inhibition of Akt activity, enhances angiogenesis, and reduces apoptotic cell death.
Bossuyt, Julie, Cardiovasc Res (2015) 105(1) doi: 10.1093/cvr/cvu252 - Click here to view the abstract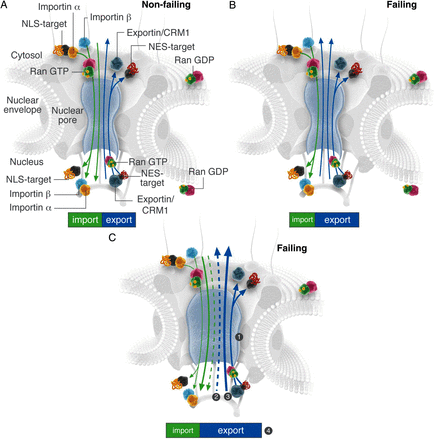 Hypothetical models of nuclear trafficking changes during cardiac hypertrophy. In the 'reversible lane model' proposed by Chahine et al (Cardiovasc Res. 2015 Jan 1;105(1):31-43) (B), the nuclear transport capacity is maintained (compared with normal hearts (A)) and the increase in nuclear export occurs at the cost of nuclear import. Alternatively (C), multiple traffic adaptations could be occurring in parallel: bottleneck modfications (i.e. alterations in nuclear pore complex arrangement or composition (1)), increases in transport modalities such as express or carpool lanes (i.e. importin/exportin-independent trafficking (2) or faster transit times (3)), or increases in road capacity (4).
Chahine, Mirna N, Cardiovasc Res (2015) 105(1) doi: 10.1093/cvr/cvu218 - Click here to view the abstract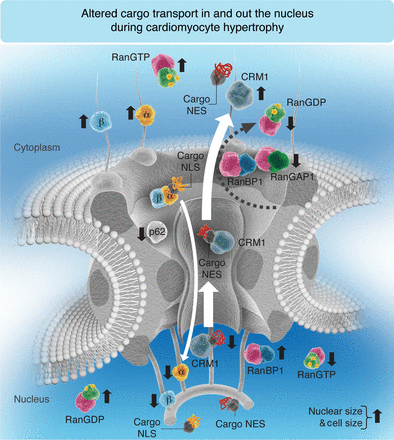 Hypothetical model occurring in myocardial tissue and isolated CM under hypertrophic conditions. Compared with healthy control (CT) rat CM or healthy human myocardial tissue, the balance between NPI and NPE is disrupted in rat CM exposed to PE for 48 h or with ischaemic cardiomyopathy (rICM) or human cardiac tissue with DCM; under these hypertrophic stimuli, the demand for the nuclear export of transcription factors is exaggerated so that the export receptor (CRM1) is found to be constantly in the cytoplasm. Subsequently, RanBP1, which facilitates the GTP hydrolysis with RanGAP1, cannot be translocated into the cytoplasm by CRM1, and the other import transport receptors (importins-α and -β) are found sequestered in the cytoplasm with RanGTP. Thus, no importins are available in the nucleus to be recycled and released free in the cytoplasm for another import cycle, which can explain the decrease in NPI. In conclusion, under hypertrophic conditions where nuclear and cell sizes are increased, CRM1 cytoplasmic translocation is increased, whereas cytoplasmic RanBP1, Nup p62, and nuclear translocation of importins (α and β) are decreased. The size of the white arrow is proportional to the transport rate. An upward black arrow shows an increase, whereas a downward black arrow shows a decrease. (Note that for simplification, some transport machinery components such as CAS, RanGEF, and NTF2 are not included in this schematic representation).
Westermann, Dirk, Cardiovasc Res (2014) 103(2) doi: 10.1093/cvr/cvu160 - Click here to view the abstract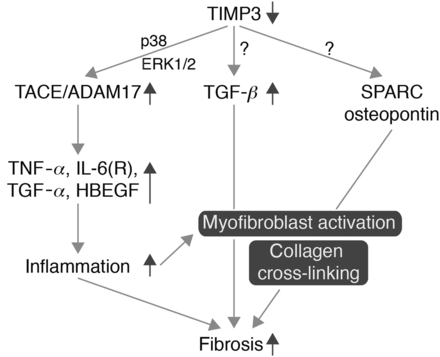 A decrease in TIMP3 will increase the activity of TACE, also called the disintegrin metalloenzyme 17 (ADAM17), resulting in an increased bioavailability and/or activity of pro-inflammatory factors including TNF-α, interleukin-6 and its receptor, and EGF receptor ligands such as TGF-α, amphiregulin, and HBEGF. TIMP3 deficiency also may increase the expression of the immune-modulatory and pro-fibrotic TGF-β.12 TIMP3 deficiency also resulted in enhanced SPARC and osteopontin, both involved in increasing fibrosis and collagen cross-linking. Signalling pathways by which TIMP3 affects TACE are p38, ERK1/2 dependent. The pathways for TGF-β, SPARC, or osteopontin are currently unknown.
Westermann, Dirk, Cardiovasc Res (2014) 103(2) doi: 10.1093/cvr/cvu160 - Click here to view the abstract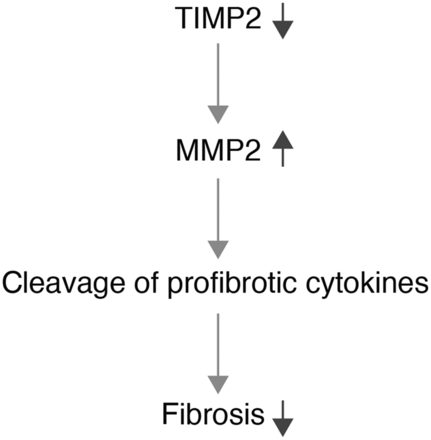 TIMP2 deficiency will increase the MMP2 activity, involved in cleavage of pro-inflammatory/fibrotic cytokines, resulting in less inflammation and fibrosis.
Liu, Laura X, Cardiovasc Res (2014) 101(4) doi: 10.1093/cvr/cvu009 - Click here to view the abstract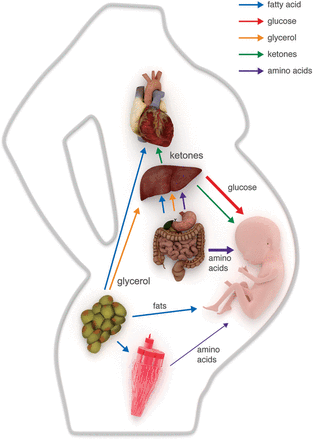 Metabolic changes during late pregnancy. Late pregnancy is marked by maternal catabolism that serves to support the dramatic anabolic growth of the foetus. The liver uses glycerol and (less so) amino acids to make glucose for the foetus and consumes fats, generating in the process ketones that are usable by the brain, muscle, and foetus. Adipose tissue releases fatty acids for consumption by both the liver and muscle. The foetus uses amino acids, fats, and roughly half of incoming glucose for anabolic growth, while largely relying on the other half of glucose for energetic needs.
Chung, Eunhee, Cardiovasc Res (2014) 101(4) doi: 10.1093/cvr/cvu013 - Click here to view the abstract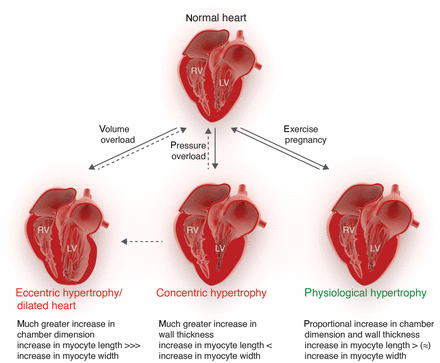 Morphometric alterations in response to various stimuli.
Chung, Eunhee, Cardiovasc Res (2014) 101(4) doi: 10.1093/cvr/cvu013 - Click here to view the abstract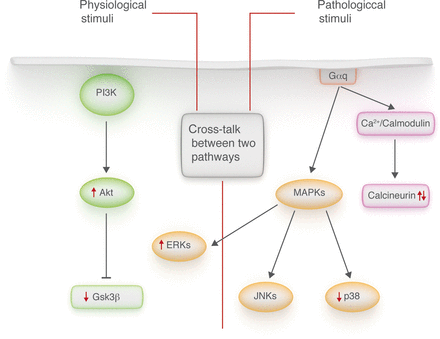 A simplified schematic view of signalling pathways in the heart. Red arrows represent signalling molecules that are altered during pregnancy.
Chung, Eunhee, Cardiovasc Res (2014) 101(4) doi: 10.1093/cvr/cvu013 - Click here to view the abstract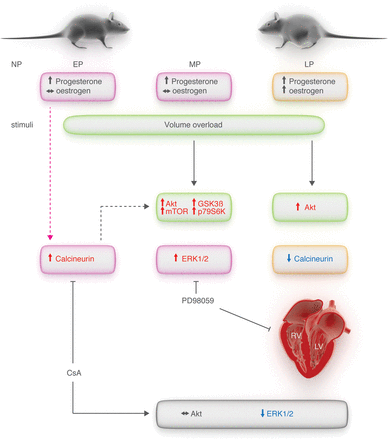 Signalling pathways in pregnancy-induced cardiac hypertrophy. Pregnancy is associated with prolonged cardiac volume overload and changes in hormonal milieu, which results in cardiac hypertrophy. Increased progesterone level in early pregnancy activates calcineurin. This increase in calcineurin activity transiently initiates pathways, such as Akt and its downstream targets, and ERK1/2 that are responsible for the development of physiological hypertrophy. Calcineurin inhibition by CsA treatment in early pregnancy blocks Akt and ERK1/2 activation, and blocks pregnancy-induced cardiac hypertrophy. A specific inhibitor of MEK 1 (PD98059), which is immediately upstream of ERK1/2, blocks progesterone-mediated isolated neonatal myocyte hypertrophy.
Kotlikoff, Michael I., Cardiovasc Res (2014) 101(1) doi: 10.1093/cvr/cvt266 - Click here to view the abstract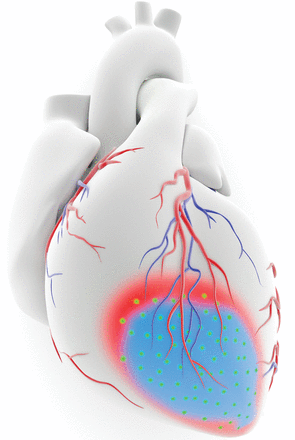 BAC transgenic mice expressing Luciferase (blue) and the red fluorescent protein Katushka under transcriptional control of Nppa (ANF) and Nppb (BNP), respectively, during cardiac infarction. Katushka expression shows that Nppb is transcriptionally activated only at the border zone, whereas Luciferase expression occurs throughout the infarcted region. Genetic sensors reporting other molecular events are depicted by green fluorescence within the infarcted region.
Fabritz, Larissa, Cardiovasc Res (2013) 99(4) doi: 10.1093/cvr/cvt188 - Click here to view the abstract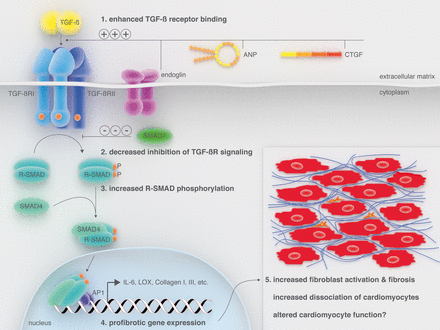 Scheme illustrating potential key steps in mechanism of selective atrial fibrosis in response to increased transforming growth factor beta (TGF-β) signalling: (1) enhanced binding of TGF-β to its receptor TGF-βR is favoured by increased expression of connective tissue growth factor (CTGF), increased endoglin expression and higher levels of atrial natriuretic peptides (ANP). (2) In addition, expression of the inhibitory SMAD7 (Sma and Mad Related Family) is lower in atria compared to ventricles, which in turn decreases inhibition of TGF-βR signalling in the atria. (3) The enhanced activation of TGF-βR in combination with decreased SMAD7 expression increases receptor regulated (R-)SMAD (here SMAD2 and (3) phosphorylation. (4) Phosphorylated R-SMAD forms a protein complex with SMAD4, moves into the cell nucleus and binds to DNA controlling target gene activity, leading to increased expression of activator protein 1 (AP1) regulated proteins. (5) The increased expression of profibrotic genes leads to fibroblast activation and fibrosis. Selective atrial interstitial fibrosis may translate into increased electrical dissociation of atrial myocardium and altered cardiomyocyte function, a potential substrate for atrial fibrillation (AF).
Balligand, Jean-Luc, Cardiovasc Res (2013) 100(1) doi: 10.1093/cvr/cvt204 - Click here to view the abstract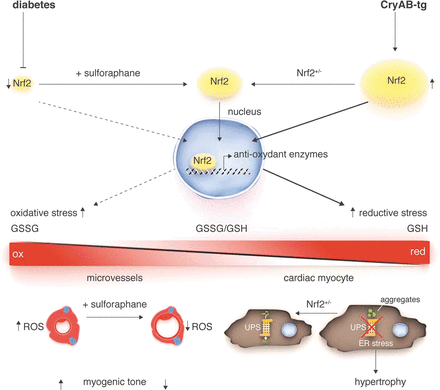 The transcription factor, Nrf2, coordinates the redox balance that conditions microvascular resistance and cardiac myocyte proteins homeostasis. Upon nuclear translocation, Nrf2 positively regulates the transcriptional regulation of a number of antioxidant enzymes that control the balance of reduced (GSH) and oxidized (GSSG) glutathione and ultimately, the prevailing oxidizing (Ox) or reducing (Red) environment in the cytosol. (Left) In diabetes, reduced Nrf2 and lower antioxidant defence results in excessive ROS formation in microvessels upon increased intraluminal pressure, that translates into increased myogenic tone, elevated microvascular resistance and perfusion defects. Experimentally, this can be corrected by the drug, sulforaphane that increases Nrf2-mediated expression of anti-oxidant enzymes in microvessels, thereby reducing oxidant stress, ROS formation and myogenic tone. (Right) In the setting of mutant CryAB overexpression in cardiac muscle cells, excessive (and probably compensatory) Nrf2 abundance drives the redox environment towards reductive stress; this, in turn, promotes the formation of protein aggregates and inactivates the ubiquitin-proteasome system (UPS), resulting in ER stress and the development of cardiac myocyte hypertrophy. In this model, Nrf2 haploinsufficiency prevents the development of such phenotype by decreasing the expression of Nrf2-dependent antioxidant enzymes, thereby re-equilibrating the redox milieu.
Szczesna-Cordary, Danuta, Cardiovasc Res (2016) 111(1) doi: 10.1093/cvr/cvw098 - Click here to view the abstract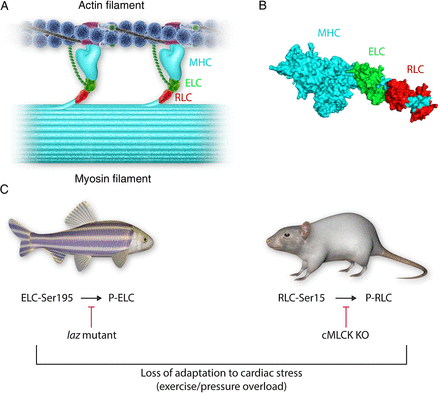 Cardiac myosin light chains in health and disease. The cardiac sarcomere contains myosin located in the thick filament and actin located in the thin filament (A). Cardiac muscle contraction is controlled by access of the myosin heads to actin binding sites on the thin filament. This process starts with the binding of calcium to troponin (positioned on the thin filament), which causes a structural repositioning of the coiled-coil tropomyosin molecule within the grooves of the double-stranded actin filament, thereby exposing actin-binding sites on the thin filament for the myosin heads to bind and develop contractile force. Moreover, it has been suggested that the N-terminus of the ELC may interact with thin-filament actin and functionally modulate thin-filament regulation and muscle contraction (A). Each myosin head is composed of the myosin heavy chain (MHC; cyan), one regulatory light chain (RLC; red), and one essential light chain (ELC; green) (B). Both myosin light chains can be phosphorylated at ELC-Ser195 and RLC-Ser-15 (C), and this process has been postulated to play a role in the normal function of the heart. Diminished phosphorylation of either light chain may negatively impact cardiac function, particularly under conditions of haemodynamic stress (C). Modulation of the light chain phosphorylation (RLC and/or ELC) may provide a pathway for the development of novel treatment strategies to combat heart failure, an entity of ever increasing clinical significance.
Balligand, Jean-Luc, Cardiovasc Res (2016) 111(2) doi: 10.1093/cvr/cvw056 - Click here to view the abstract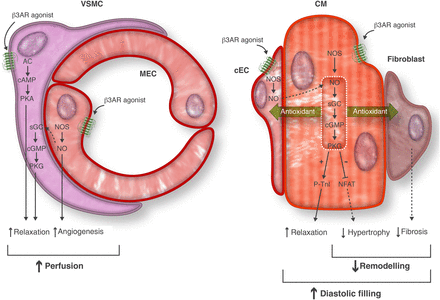 Cell-specific pathways for B3AR signalling. B3AR agonists (or endogenous catecholamines) activate B3AR in cardiac myocytes (CM), cardiac microvascular (capillary) endothelial cells (cEC), macrovascular endothelial cells (MEC), and vascular smooth muscle cells (VSMC) from coronary arteries. In CM and ECs, B3AR activate NOS and downstream soluble guanylyl cyclase (sGC)/cyclic GMP (cGMP)/protein kinase G (PKG) pathway producing autocrine (CM) or paracrine (ECs) relaxation of cardiac and vascular muscle, respectively. In some vessel beds, B3AR also couple to Adenylyl Cyclase (AC)/cyclic AMP (cAMP)/protein kinase A (PKA) to directly relax vessels. In addition to NO-induced pro-angiogenic effects in endothelial cells, these vasorelaxing effects contribute to improved myocardial perfusion. In CM, B3AR decrease hypertrophy, which, together with antioxidant effects in CM and neighbouring cells such as fibroblasts (fib), prevents hypertrophic and fibrotic remodelling, thereby preserving diastolic filling.
Balligand, Jean-Luc, Cardiovasc Res (2016) 111(2) doi: 10.1093/cvr/cvw056 - Click here to view the abstract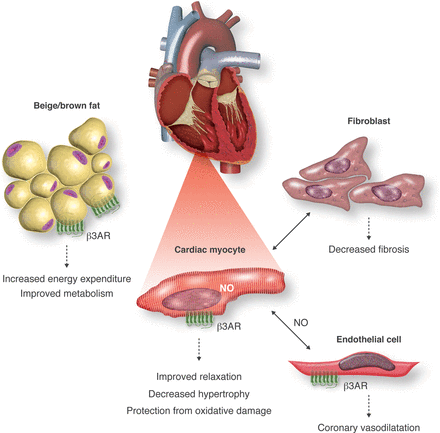 Cardiac protection through autocrine, paracrine, and systemic effects of B3AR signalling. B3AR are expressed in cardiac myocytes, endothelial cells, and adipocytes. B3AR activation in myocytes produces nitric oxide that, together with protection from oxidant stress, contributes to protection from hypertrophy, ischaemia/reperfusion, and oxidative damage. This is reinforced from paracrine NO produced following activation of endothelial B3AR, together with vasorelaxation, angiogenesis, and improved coronary perfusion. Cardiac B3AR activation also modifies paracrine signalling to fibroblasts resulting in decreased fibrosis. Sympathetic activation of B3AR in adipose tissue promotes 'browning' of adipocytes with increased energy expenditure (through increased lipolysis and non-shivering thermogenesis) that contributes further cardiovascular benefit from improved metabolic risk factors.
Rainer, Peter P., Cardiovasc Res (2016) 111(2) doi: 10.1093/cvr/cvw107 - Click here to view the abstract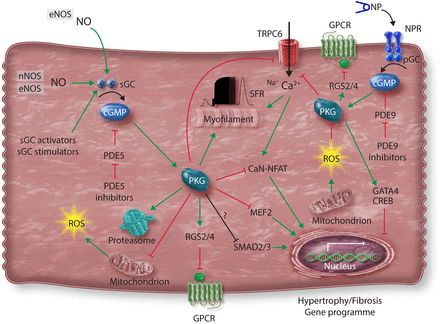 cGMP-PKG signalling in the cardiomyocyte. cGMP is generated by NO stimulation of soluble guanylate cyclase (sGC) in the cytosol (left) or natriuretic peptide receptor (NPR) coupled particulate guanylate cyclase (pGC) activation at the cell membrane (right). PDE5, which is located at the z-discs, appears to mainly target sGC-synthetized cGMP. PKG attenuates G-protein-coupled signalling (GPCR) via phosphorylation of regulator of G-protein signalling (RGS). Studies suggest that this happens through both sGC- and pGC-activated PKG pools. NO-derived cGMP/PKG improves proteasomal function, dampens ischaemia- and doxorubicin-related damaging mitochondrial signalling, and reduces activation of the maladaptive transcription factors NFAT and myocyte enhancer factor-2 (MEF2). NO/sGC/cGMP-activated PKG also phosphorylates several myofilament proteins effecting enhanced lusitropy and attenuated beta-adrenergic inotropy.PKG stimulated by both cGMP generated via the pGC pathway at the cell membrane or PDE5 inhibition with sildenafil inhibits TRPC6. Calcium that enters the cell through TRPC6 partakes in myofilament activation and force generation (slow force response, SFR), and calcineurin (CaN)-NFAT signalling, and possibly mitochondrial calcium and permeability transition. In addition, pGC-cGMP-stimulated PKG selectively enhances transcription factors that have been linked to cell survival and enhanced adaption, GATA-binding protein 4 (GATA4), and cAMP response element-binding protein (CREB). NP-stimulated cGMP is preferentially targeted by PDE9, which localizes close to t-tubules. Oxidation (ROS) attenuates PKG activation and protective signalling in the cardiomyocyte. Whether oxidative activation differs according to the source of cGMP/PKG remains to be determined. PKG prevents activation and nuclear transport of mothers against decapentaplegic homologue 3 (SMAD3) and hence TGFβ-related signalling in myofibroblasts. Whether this happens in cardiomyocytes and whether this is differentially impacted according to PKG generation are unclear. Please note that research into the cardiac targets of the PDE9-related cGMP-PKG signal is as yet limited, and many of the studies to date did not strictly differentiate between sGC- and pGC-regulated cGMP signalling. Future studies will reveal the amount of crosstalk between these functional compartments and the respective importance in varied pathophysiologies, and thus paint a more complete or modified picture of compartmentalized PKG-associated signalling.
Rainer, Peter P., Cardiovasc Res (2016) 111(2) doi: 10.1093/cvr/cvw107 - Click here to view the abstract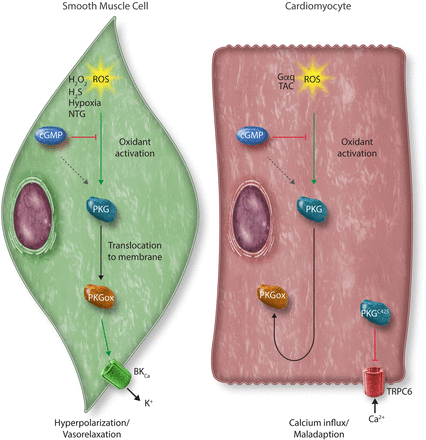 Oxidative regulation of PKG in smooth and cardiac muscle cells. In smooth muscle cells, oxidant activation of PKG (cysteine 42 disulfide formation) induces PKG translocation to the cell membrane where it phosphorylates Ca2+-activated potassium channels (BKCa) and induces hyperpolarization and vasorelaxation. Preventing oxidant PKG activation by substituting cysteine 42 with serine (C42S, redox-dead PKG) impairs this process. cGMP activation of PKG is still present; however, it appears that oxidant and cGMP activation impede each other (NTG: nitroglycerine). In contrast, in cardiomyocytes, oxidant activation of PKG, such as happens with neurohumoral activation (Gαq) or pressure overload (TAC) retains oxidized PKG (PKGox) in the cytosol. Redox-dead PKGC42S, which may still be activated by cGMP, localizes to the cell membrane where it attenuates TRPC6-related calcium entry and associated maladaptive signalling.