2017 | 2016 | 2015 | 2014 | 2013 | 2012 | 2011 | 2010 | 2009 | 2008 | 2007 | 2006 | 2005 | 2004 | 2003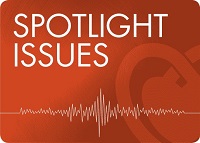 Cardiovascular Research regularly publishes "Spotlight Issues". Each issue is devoted to a specific research topic and contains a number of invited expert reviews alongside original research papers.
A full list of previous Spotlight Issues published by Cardiovascular Research since 2003 can be found below, many of which are available for free. Spotlight Issues cover a range of topics from myocardial proteases, to the genetic of arrhythmias, to the effects of sodium on the heart.
"Review Focus Issues" contain a series of reviews that may or may not be accompanied by original papers – they are generally not as broad in focus as Spotlight Issues.
---
Forthcoming Spolight Issue
To be published in March 2017
Spotlight Issue on: Metabolic Cardiomyopathies
Guest Editors: Elizabeth Murphy | Vascular Medicine Branch, National Heart Lung and Blood Institute, NIH, Bethesda, MD, USA
Christoph Maack | Clinic for Internal Medicine III, Saarland University, Homburg/Saar, Germany

Cardiovascular Research publishes Spotlight Issues devoted to a specific research topic. A Spotlight Issue on Metabolic Cardiomyopathies will bring together a series of papers that highlight recent advances in molecular mechanisms and translational perspectives.

Metabolism is central to the function of the heart. In response to primary alterations in body metabolism such as diabetes, obesity or diet, the heart and cardiovascular system will adapt and remodel. This metabolic remodeling can lead to cardiac dysfunction and increased susceptibility to hypertrophy and failure. Furthermore, pressure overload hypertrophy results in altered metabolism and metabolic reprogramming that can contribute to heart failure. Insights into the interrelationship between metabolism and cardiovascular function will be the focus of this Spotlight Issue.
Topics that will be covered include:
CAMKII and cardiomyopathy
Alterations in metabolic flexibility
Metabolic remodeling in diabetes
Barth Syndrome
Diabetic cardiomyopathy
Inflammation in metabolic cardiomyopathy
Autophagy
Sex differences in metabolic cardiomyopathies
Ketone bodies and cardiomyopathy
Innate immune signaling in cardiometabolic disease
---
2016 Issues
Spotlight Issue on: Atrial Fibrillation - From Mechanistic Insights to Innovative Therapeutic Strategies
Published 4 March 2016
Stanley Nattel, Montreal, Canada
Dobromir Dobrev, Essen, Germany
Atrial Fibrillation represents a major medical need and is, fortunately, a very active field of novel discoveries and research with strong translational potential, often in bedside-bench-bedside reiterative cycles.This Spotlight Issue addresses everything from cardiac adipose tissue and AF, to metabolism and perfusion in AF, translating mechanistic insights into clinical application, and more.
Virtual Issue: More on Atrial Fibrillation from Cardiovascular Research
---
2015 Issues
Spotlight Issue on: Leucocyte trafficking across the vessel wall
Published 1 August 2015
Alexander Zarbock, Münster, Germany
Klaus Ley, La Jolla, USA
Markus Sperandio, Munich, Germany
Inflammatory responses require efficient recruitment of leukocytes into the tissue. This process proceeds in a cascade-like fashion. Selectins and their counter receptors mediate the first contact of leukocytes with the endothelium, followed by rolling and integrin-mediated arrest. During rolling, leukocytes collect different inflammatory signals which can activate several signaling pathways leading to leukocyte adhesion to the endothelium and transmigration through the blood vessel wall into the inflamed tissue where they release potent oxidants, proteases, and cationic peptides, which may induce collateral tissue damage. Whereas inflammatory reactions are beneficial and necessary for host defense, they need to be balanced and controlled to prevent harmful consequences and tissue destruction. In this issue, we focus on leukocyte recruitment and functions during inflammation and development.
Spotlight Issue on: Sarcomeric cardiomyopathies: from bedside to bench and back
Published 5 March 2015
Lucie Carrier, Hamburg, Germany
Jolanda van der Velden, Amsterdam, the Netherlands
Inherited cardiomyopathies are clinically highly variable and show age-dependent and variable penetrance, i.e. age of onset in patients with the same mutated gene can vary from early age to senescence. But even for a given mutation in one gene, onset and disease severity largely differ. This suggests a more complex pathophysiologic basis for disease development, including secondary disease-modifiers that, once identified, may serve as therapeutic targets. This Spotlight Issue focuses on advances in research methodologies and pathomechanisms in adult cardiomyopathy.
---
2014 Issues
Spotlight Issue on: HDL Biology: New Insights in Metabolism, Function, and Translation.
Published 1 August 2014
Laura Calabresi, Milan, Italy
Jerzy-Roch Nofer, Münster, Germany
Giuseppe Danilo Norata, Milan, Italy
A number of recent randomized studies have failed to show benefit of HDL-C raising approaches and led many researchers to question the "HDL hypothesis" supported by prospective observational, and in vitro and in vivo mechanistic studies. The aim of this issue is to discuss these controversies and to offer possible mechanistic explanations for them. HDL also acts as reservoir for a number of biologically active substances which are altered in acute and chronic conditions and affect the function of endothelial cells, immune and inflammatory cells, and beta cells. A second aim of this issue is to discuss the role of HDL in disease development and to critically discuss the value of animal models as translational tools for the study of lipid disorders and atherosclerosis.
Spotlight Issue on: Heterocellular Signalling and Crosstalk in the Heart in Ischaemia and Heart Failure
Published 1 May 2014
Emilio Hirsch, Torino, Italy
Ryozo Nagai, Shimotsuke, Japan
Thomas Thum, Hannover, Germany and London, UK
The issue brings together a series of papers that highlight recent advances in basic and translational research. There is strong and growing body of evidence for modulation of cardiac myocytes by other cells in the myocardium. For fibroblasts, and to a lesser extent endothelial cells, this is well established, but new data are emerging regarding the nature of the communication and the relevance for disease. Other cell types are also recognized to influence myocytes such as inflammatory cells and adipocytes. Conversely, cardiac myocytes may influence the inflammatory cells, fibroblasts, and stem cells. The focus is on the adult heart, and in particular pathophysiology. The development aspect is not targeted, but a discussion of signalling mechanisms may include developmental aspects.
Review Focus on: Pregnancy-mediated Heart & Vascular Disease
Published 15 March 2014
Denise Hilfiker-Kleiner, Hannover, Germany
Zolt Arany, Boston, USA
This issue brings together a series of papers that highlight recent advances in basic and translational research. The manuscripts provide insights into molecular mechanisms underlying physiology and pathophysiology of the maternal heart and cardiovascular system during pregnancy and in the peripartum phase. Moreover, aspects on prevalence, etiology and novel treatment options are highlighted. Insights from pregnancy-mediated cardiovascular disease open perspectives to heart failure and vascular remodeling by identifying novel molecular pathways to be explored in other conditions of stress and overload.
---
2013 Issues
Spotlight Issue on: Biomechanical Factors in Cardiovascular Disease
Published 15 July 2013
Paul C. Evans, Sheffield, UK
Brenda R. Kwak, Geneva, Switzerland
Blood vessels are exposed to multiple mechanical forces that are exerted on the vessel wall and at the endothelial surface. The stresses and strains experienced by arteries have profound effects on vascular physiology and disease. They are major determinants of the localization, progression and fate of atherosclerotic lesions. This special issue highlights the interface between mechanical forces and vascular biology by including papers from leading engineers and vascular biologists in the field.
Spotlight Issue on: T-tubules and Ryanodine Receptor Microdomain Signalling in Cardiac Hypertrophy and Failure
Published 1 May 2013
Karin R. Sipido, Leuven, Belgium
Heping Cheng, Beijing, China
This issue brings together a series of papers that highlight recent insights into the interaction between ultrastructure and functional adaptation in the microdomains for calcium in cardiac hypertrophy and failure.
Review Focus on: Cardiovascular Systems Biology
Published 15 March 2013
Manuel Mayr, London, UK
To understand complex biological systems, detailed examination of the properties of their constituent parts is essential; however, this alone is insufficient. The quest for single signalling pathways in multifactorial disease processes has the illusion of simplicity, but requires higher levels of integration. The four big "-omic" techniques – genomics, transcriptomics, proteomics, and metabolomics – provide an opportunity to bridge the gap between molecular and systems biology and offer a non-biased suite of tools that will be indispensable for addressing the multiple facets of cardiovascular disease.
---
2012 Issues
Spotlight Issue on: Landmark Papers in Cardiovascular Research
Published 1 November 2012
Hans Michael Piper, Dusseldorf, Germany
David Garcia-Dorado, Barcelona, Spain
Spotlight Issue on: Smooth Muscle Cells and Vascular Diseases
Published 15 July 2012
Jean-Baptiste Michel, Paris ,France
Zhenlin Li, Paris, France
Patrick Lacolley, Lorraine, France
Spotlight Issue on: Reducing the Impact of Myocardial Ischaemia/Reperfusion Injury
Published: 1 May 2012
Hans Michael Piper, Dusseldorf, Germany
David Garcia-Dorado, Barcelona, Spain
Review Focus on: The Role of MicroRNA in Cardiovascular Biology and Disease
Published: 15 March 2012
Thomas Thum, Hannover, Germany
Manuel Mayr, London, UK
---
2011 Issues
Spotlight Issue on: Cardiac Development
Published: 15 July 2011
Diego Franco , Jaen, Spain
Robert G. Kelly, Marseille, France
Review Focus on: Epigenetics and the Histone Code in Vascular Biology
Published: 1 June 2011
Seppo Yla-Herttuala, Kuopio, Finland
Christopher K. Glas , San Diego, CA USA
Spotlight Issue on: Metabolic Remodelling in Heart Failure
Published: 1 May 2011
Torsten Doenst, Jena, Germany
E. Dale Abel, Salt Lake City, UT, USA
Spotlight Issue on: The Molecular Basis of Atrial Fibrillation
Published: 10 January 2011
Dobromir Dobrev, Heidelberg, Germany
Stanley Nattel, Montreal, Canada
Review Focus on: Inorganic Nitrite and Nitrate in Cardiovascular Health and Disease
Published: 15 February 2011
Christopher G. Kevil, Shreveport, USA
David J. Lefer, Atlanta, USA
---
2010 Issues
Spotlight Issue on: Mitochondria in Cardiac Disease
Published: 1 October and 1 November 2010
Derek J. Hausenloy, London, UK
Marisol Ruiz-Meana, Barcelona, Spain
Spotlight Issue on: Microvascular Permeability
Published: 15 June 2010
Fitz-Roy E. Curry, California, USA
Thomas Noll, Giessen, Germany
Spotlight Issue on: Mechanisms of Vascular Inflamation
Published: 1 May 2010
Francisco Sanchez-Madrid, Madrid, Spain
William C. Sessa, New Haven, USA
Spotlight Issue on: The Role of the Ubiquitin-Proteasome Pathway in Cardiovascular Disease
Published: 15 January 2010
Christophe Depre, New Jersey, USA
Saul R. Powell, Manhasset, USA
Xuejun Wang, South Dakota, USA.
---
2009 Issues
Spotlight Issue on: Cardiac Protection
Published: 15 July 2009
Hans Michael Piper, Giessen, Germany
David Garcia-Dorado, Barcelona, Spain
Spotlight Issue on: Signalling Pathways in the Heart and Vasculature
Published: 1 May 2009
Joel S. Karliner, University of California, San Francisco
Joan Heller Brown, University of California, San Diego
Spotlight Issue on: Myocardial Remodelling
Published: 15 February 2009
Javier Díez, Navarra, Spain
Georg Ertl, Wurzburg, Germany
---
2008 Issues
Spotlight Issue on: Signalling in Cardiac Metabolism
Published: 15 Jul 2008
Gary D. Lopaschuk, Edmonton, Canada
Daniel P. Kelly, St Louis, USA
Spotlight Issue on: Mechanisms of Angiogenesis and Remodeling of the Microvasculature
Published: 1 May 2008
Alain Tedgui, Paris, France
Bernard Lévy, Paris, France
Jean-Sébastien Silvestre, Paris, France
Spotlight Issue on: Sarcoplasmic Reticulum and Mitochondria in Cardiac Pathophysiology
Published: 15 Jan 2008
David A. Eisner, Manchester, UK
David García-Dorado, Barcelona, Spain
Hans Michael Piper, Giessen , Germany
---
2007 Issues
Spotlight Issue on: Signalling in Cardiac Metabolism
Published: 15 Jul 2007
Santiago Lamas, Madrid, Spain
Charles J. Lowenstein, Baltimore, USA
Thomas Michel, Boston, USA
Spotlight Issue on: The TGF β Superfamily in Cardiovascular Biology
Published: 1 May 2007
Jawahar L. Mehta, Arkansas, USA
Håvard Attramadal, Oslo, Norway
Spotlight Issue on: Role of Nutrition in Mechanisms of Cardiovascular Disease
Published: 15 Jan 2007
Louis J. Ignarro, Los Angeles, USA
William C. Stanley, Cleveland, USA
Claudio Napoli, Naples, Italy
---
2006 Issues
Spotlight Issue on: The TGFβ Superfamily in Cardiovascular Biology
Published: 15 Jul 2006
Ajay Shah, London, UK
Heinrich Sauer, Giessen, Germany
Spotlight Issue on: Cardiac Protection by Pre- and Postconditioning
Published: 1 May 2006
Jakob Vinten-Johansen, Atlanta, USA
David García-Dorado, Barcelona, Spain
Hans Michael Piper, Giessen, Germany
Spotlight Issue on: Matrix Metalloproteinases in the Cardiovascular System
Published: 15 Feb 2006
Andrew C. Newby, Bristol, UK
Francis G. Spinale, Charleston, USA
Matthias Pauschinger, Berlin, Germany
---
2005 Issues
Spotlight Issue on: The Molecular Genetics of Arrhythmias
Published: 15 Aug 2005
Arthur A.M.Wilde, Amsterdam, The Netherlands
Connie R. Bezzina, Amsterdam, The Netherlands
Dan M. Roden, Vanderbilt, The Netherlands
Spotlight Issue on: Cardiovascular Aging
Published: 1 May 2005
Salvatore Pepe, Melbourne, Australia
Edward G. Lakatta, Baltimore, USA
Matthias Barton, Zürich, Switzerland
Spotlight Issue on: Growth Factors in the Vascular System
Published: 15 Feb 2005
Mark J. Post, Maastricht, The Netherlands
Johannes Waltenberger, Maastricht, The Netherlands
---
2004 Issues
Spotlight Issue on: Signaling Networks in Cardiac Hypertrophy
Published: 15 Aug 2004
Kai C. Wollert, Hannover, Germany
Klaus-Dieter Schlüter, Giessen, Germany
Spotlight Issue on: Gap Junctions and Cell-Cell Communication in the Cardiovascular System
Published: 1 May 2004
Stefan Dhein, Leipzig, Germany
Habo Jongsma, Utrecht, The Netherlands
Jeffrey E. Saffitz, St. Louis, USA
Spotlight Issue on: Mechanisms of Reperfusion Injury
Published: 15 Feb 2004
David García-Dorado, Barcelona, Spain
Lance Becker, Chicago, USA
---
2003 Issues
Spotlight Issue on: Infection and Inflammation in the Cardiovascular System
Published: 15 Oct 2003
Fiorella Calabrese, Padua, Italy
Allard C van der Wal, Amsterdam, The Netherlands
Marcel Levi, Amsterdam, The Netherlands
Spotlight Issue on: Cell Transplantation and Stem Cells in the Cardiovascular System
Published: 1 May 2003
Marcel A.G. van der Heyden, Utrecht, The Netherlands
Jürgen Hescheler, Cologne, Germany
Christine L. Mummery, Utrecht, The Netherlands
Loren J. Field, Indianapolis, USA
Spotlight Issue on: Sodium and the Heart
Published: 15 Mar 2003
Burkert Pieske, Göttingen, Germany
Steven R Houser, Philadelphia, USA
Gerd Hasenfuss, Göttingen, Germany
Donald M Bers, Chicago, USA