Vertebrates, Stress and Conservation
First virtual issue of Conservation Physiology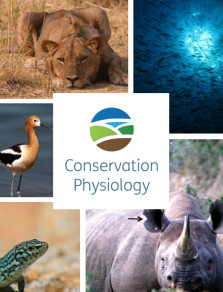 Foreword from the Editor-in-Chief:
Humans have a dominant influence on the natural world.
Vertebrates that interact with humans or human-altered landscapes are subject to various acute and chronic stressors. Quantifying the endocrine and physiological aspects of anthropogenic stressors can yield a mechanistic explanation of population declines. Moreover, by identifying stressors it provides opportunities to mitigate them. There are inherent challenges with studying stress in wild animals, but there are a growing number of novel, often non-invasive, approaches that have generated much interest within the research community.
We have assembled a "virtual" special issue on the topic of "vertebrate stress" given its importance in the emerging realm of conservation physiology. Papers spanning vertebrate taxa, stressors, and endpoints will be featured along with technical papers that advance techniques for studying stress in wild vertebrates. The virtual special issue is anchored by several synthetic perspective articles that will help to shape research on this topic.
Articles