October is widely recognised as Cybersecurity month: a time to raise awareness of and improve education about cyber threats, as well as promote the work being done to facilitate better management and prevention of cyber attacks.
In support of the advancement of security, Oxford University Press has collated journal papers, book recommendations, and blog posts reflecting the varied and cross-discipline nature of cybersecurity science. All content is freely available to explore, download, and enjoy.
Journal of Cybersecurity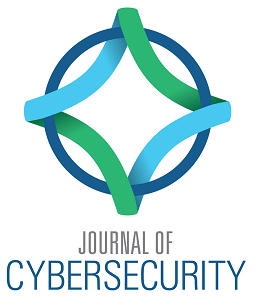 From physical security to cybersecurity
Arunesh Sinha, Thanh H. Nguyen, Debarun Kar, Matthew Brown, Milind Tambe, Albert Xin Jiang
10.1093/cybsec/tyv007
Examining the costs and causes of cyber incidents
Sasha Romanosky
10.1093/cybsec/tyw001
Critical visualization: a case for rethinking how we visualize risk and security
Peter Hall, Claude Heath, Lizzie Coles-Kemp
10.1093/cybsec/tyv004
Keys under doormats: mandating insecurity by requiring government access to all data and communications
Harold Abelson, Ross Anderson, Steven M. Bellovin, Josh Benaloh, Matt Blaze, Whitfield Diffie, John Gilmore, Matthew Green, Susan Landau, Peter G. Neumann, Ronald L. Rivest, Jeffrey I. Schiller, Bruce Schneier, Michael A. Specter, Daniel J. Weitzner
10.1093/cybsec/tyv009
Identifying patterns in informal sources of security information
Emilee Rader, Rick Wash
10.1093/cybsec/tyv008
Increasing cybersecurity investments in private sector firms
Lawrence A. Gordon, Martin P. Loeb, William Lucyshyn, Lei Zhou
10.1093/cybsec/tyv011
A grounded analysis of experts' decision-making during security assessments
Hanan Hibshi, Travis D. Breaux, Maria Riaz, Laurie Williams
10.1093/cybsec/tyw010
International Data Privacy Law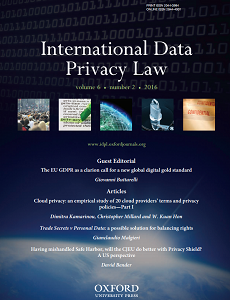 The EUs human rights obligations in relation to its data protection laws with extraterritorial effect
Mistale Taylor
10.1093/idpl/ipv023
Privacy-preserving surveillance: an interdisciplinary approach
Pascal Birnstill, Sebastian Bretthauer, Simon Greiner and Erik Krempel
10.1093/idpl/ipv021
The European data protection framework for the twenty-first century
Viviane Reding
10.1093/idpl/ips015

The trouble with European data protection law
Bert-Jaap Koops
10.1093/idpl/ipu023


International Journal of Law and Information Technology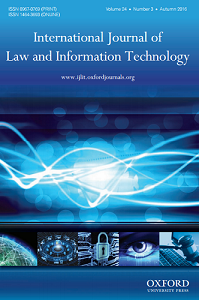 The feasibility of transatlantic privacy-protective standards for surveillance
Ian Brown
10.1093/ijlit/eau007
An international constitutional moment for data privacy in the times of mass-surveillance
Monika Zalnieriute
10.1093/ijlit/eav005
Engineering and lawyering privacy by design: understanding online privacy both as a technical and an international human rights issue
Adamantia Rachovitsa
10.1093/ijlit/eaw012
On the OUPblog
Israel and the offensive military use of cyber-space
by Matthew S. Cohen
How do we protect ourselves from cybercrime?
by David Pym and Tyler Moore
Inflitrating the Dark Web
by Andrew Staniforth
Cyber terrorism and piracy
by Alfred Rolington
Cyber war and the question of causation
by Jens David Ohlin
A Chekhovian view of privacy for the internet age
by Christopher Kuner
Will data privacy change the law?
by Dan Jerker B. Svantesson
From the bookshelves