Circulating microparticle levels in patients with coronary artery disease: a new indicator of vulnerability? - Figure 1
Eur. Heart J. (2011), 32 (16), 1958-1960; 10.1093/eurheartj/ehr055 - Click here to view abstract
Release of microparticles (MPs) into the blood stream following cell activation or apoptosis. MPs released from endothelial cells and/or platelets, characterized by phosphatidylserine exposure and presence of CD31 (CD31+ AnnV+ MPs) may serve as a pronostic marker for major adverse cardiovascular events. In addition, circulating MPs may contribute to the development of athero-thrombosis by promoting endothelial dysfunction, favouring intraplaque angiogenesis and thrombus formation.
Endothelial dysfunction over the course of coronary artery disease - Figure 2
Eur Heart J (2013) 34 (41): 3175-3181; 10.1093/eurheartj/eht351 - Click here to view abstract
Illustration of the reciprocal interaction between endothelial dysfunction, inflammation and the natural history of coronary artery disease. Blue arrows marked with the box 'ED' represent processes in which endothelial dysfunction modifies the evolution or prognosis of coronary artery disease. Red arrows represent ways in which coronary artery disease contributes to a worse endothelial function.
Remote ischaemic pre-conditioning in cardiac surgery: benefit or not? - Figure 1
Eur Heart J (2014) 35 (3): 141-143; 10.1093/eurheartj/eht517 - Click here to view the abstract
Possible mechanisms for signal transduction from remote ischaemic tissue (upper arm) to target organ (heart).
How to treat Marfan syndrome: an update
Eur. Heart J. (2015), Fig 1; 10.1093/eurheartj/ehv589 - click here to view abstract
Aortic root growth rates in Marfan patients on beta-blockers (green circles) and those on losartan (red squares), extrapolated from the four published randomized studies.
Coronary microvascular obstruction in acute myocardial infarction
Eur. Heart J. (2016) 37(13) doi: 10.1093/eurheartj/ehv484 - Click here to view the abstract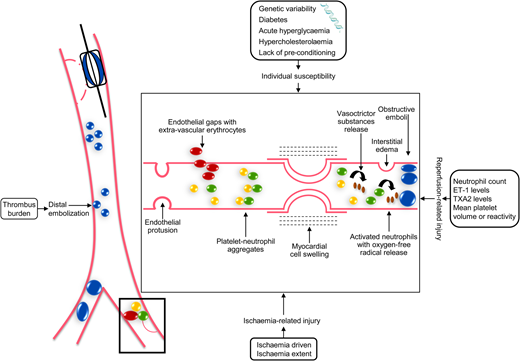 There are four interacting mechanisms involved in the pathogenesis of coronary microvascular obstruction in humans: ischaemia-related injury, reperfusion-related injury, distal embolization, and individual susceptibility (both genetic and due to pre-existing coornary microvascular dysfunction) of the microcirculation to injury. Ischaemic injury: it depends on duration and extent of ischaemia and is characterized by severe capillary damage, endothelial protrusions, and blebs that block the capillary lumen, and endothelial gaps with extra vascular erythrocytes (in red). Interstitial myocardial oedema compresses capillaries and small arterioles, further decreasing flow through these dysfunctional vessels, whereas sodium and calcium overload explains myocardial cell swelling. Reperfusion injury: the principal determinants of this phenomenon are represented by neutrophils (in green), endothelin-1, thomboxane-A2, and platelets (in yellow). The obliteration of vessel lumen by neutrophil-platelet aggregates is associated with release of vasoconstrictors and inflammatory mediators (in brown). Furthermore, in cardiomyocytes, reperfusion stimulates the production of reactive oxygen species by mitochondria further aggravating microvascular function. Finally, reperfusion may increase infarct size due to mitochondria swelling and cell rupture based on opening of the mitochondrial membrane permeability transition, as well as favour intra-myocardial haemorrhage. Distal embolization: distal embolization (in blue) of plaque and thrombus material may obstruct mechanically the microcirculation, but it is also a source of vasoconstrictors and procoagulant substances. Both thrombus and plaque features modulate the effect of distal embolization on coronary microvascular obstruction. Individual susceptibility of the microcirculation to injury: Factors modulating individual susceptibility to coronary microvascular obstruction are presented by genetic variability, diabetes, acute hyperglicaemia, hypercholesterolaemia, and lack of pre-conditioning.
Treatment of microvascular angina: the need for precision medicine
Eur. Heart J. (2016) 37(19) doi: 10.1093/eurheartj/ehw021 - Click here to view the abstract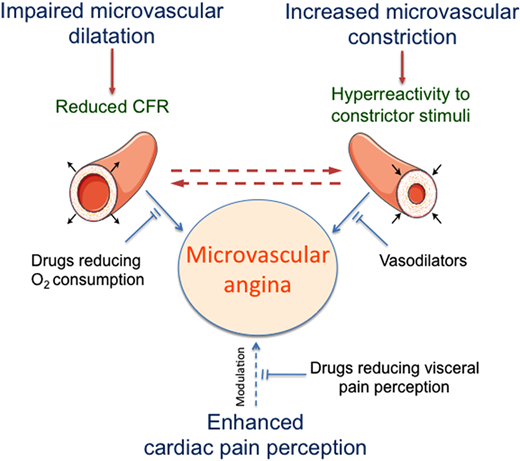 Pathophysiological mechanisms that can variably be involved in determining microvascular angina. CFR, coronary flow reserve.