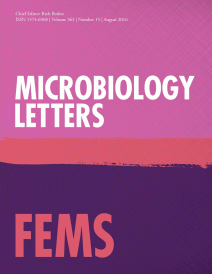 FEMS Microbiology Letters is offering an exciting award that is open to all authors submitting a MiniReview to the journal. To recognise the importance of collaborative work that is being carried out in both multidisciplinary research and the knowledge development process, FEMS and OUP have teamed up to offer a €1,000 award to the best MiniReview accepted by FEMS Microbiology Letters each year.
For this year's award the best MiniReview published in 2017 will be selected by the FEMS Microbiology Letters editorial team and the winner announced in January 2018.
The winner will receive €1,000, free access to their article, plus special marketing attention for their article from both OUP and FEMS.
We are looking to connect different fields and people. Multi-authored reviews are encouraged.
All accepted authors are eligible for the award.
To get involved please contact the relevant Section Editor via this page.
Results
Winner 2016
Ulrich Sonnenborn
Runners up 2016
Fernanda P. Cid, Joaquín I. Rilling, Steffen P. Graether, Leon A. Bravo, María de La Luz Mora, Milko A. Jorquera
Maureen O'Malley