Virtual Issue: Forecasting in Management Science
Editor's Introduction: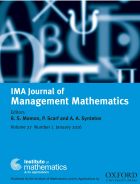 The IMA Journal of Management Mathematics (IMAMAN) publishes mathematical or, more broadly, quantitative research of the highest quality, impact and relevance that can be directly utilized or have demonstrable potential to be employed by managers in profit, not-for-profit, third party and governmental/public organizations to improve their practices.
The journal is launching a series of virtual issues, each of which is to focus on a specific area of management mathematics containing articles previously published by the journal in that area of interest. By doing so, the journal aspires to reach and influence specialist academic communities often not exposed to material published in non-specialist journals.
The first such issue is dedicated to the theme of 'Forecasting in Management Science'. The forecasting discipline is becoming increasingly specialized, as it is evident by the focus of specialist journals (such as the International Journal of Forecasting or Journal of Forecasting). The aim of this virtual issue is to stimulate dialogue between specialist forecasting researchers and more generalist Management Science researchers. It contains seven articles, published in recent years by the journal, covering forecasting research in a supply chain context and operations management as well as more theoretical work that may be of interest to generic forecasting applications.
The authors contributing to this special issue range from regular contributors to forecasting journals to researchers not having previously published in such journals and this is, we believe, a very healthy mixture of researchers with very diverse backgrounds and interests.
All the articles in this virtual issue are currently freely downloadable. We hope you will find these articles interesting and thought-provoking, and that they will stimulate your research and inform your practice.
Please also note that IMAMAN published a special issue on 'Demand Forecasting for Inventory Management' in 2008, edited by John E. Boylan and Aris A. Syntetos (Volume 19, Issue 2, pp. 99 - 218).
Thank you very much.
Aris A. Syntetos
ARTICLES: