Virtual Issue: Quantitative Methods in Finance
Editor's Introduction: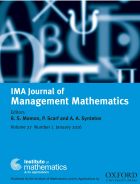 The IMA Journal of Management Mathematics welcomes the publication of papers dealing with topics in financial and risk modelling, and in 2008 the journal published a Special Issue on "Financial Mathematics", edited by Rogemar Mamon and Paresh Date (Volume 18, Issue 4, pp. 313 - 433). Since then, the journal has seen a substantial increase in the number of quantitative finance and related submissions. It is timely, therefore, to present this second Virtual Issue that focuses on the theme of "Quantitative Methods in Finance". The first Virtual Issue on "Forecasting in Management Science" is available here.
This Virtual Issue aims to provide an accessible avenue for current developments and flourishing ideas that are relevant to researchers, experts and practitioners in financial mathematics, insurance, and other cognate fields of applications. There are nine articles in the Virtual Issue; some are very recent, the others are relatively recent, but have significance and value that are time invariant. All of these articles showcase clear managerial implications, in line with the distinctive feature of the journal.
The problems addressed in these articles cover the core areas of financial mathematics: product valuation, including exotic derivatives; measurement and management of risks, and constrained portfolio optimisation. A number of them deal thoroughly with optimal and dynamic model parameter estimation. The majority also highlight the creation, implementation and evaluation of new models, methodologies and approaches. This is in response to the emerging innovations in financial products and services, expanded capacity of technological platforms, and evolving policies set by regulatory authorities in recent years.
The contributing authors have diverse backgrounds and expertise. They include junior investigators, industry consultants, business practitioners and seasoned researchers. The articles can be downloaded for free, below. We hope they will offer you alternative perspectives and new insights useful for your research, teaching and practice.
- Rogemar Mamon
Co-editor, IMA Journal of Management Mathematics.
ARTICLES: