VIRTUAL ISSUE: IMMUNE CHECKPOINTS IN CANCER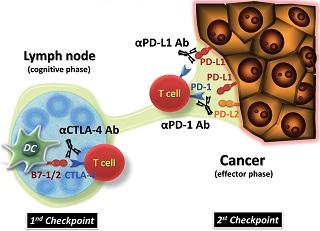 International Immunology
presents a special virtual issue comprising Review articles published on immune checkpoints in cancer.
Full activation of T cells requires two signals: one via the TCR and one via an immune checkpoint that either co-stimulates or co-inhibits the TCR signal. Co-inhibitory molecules such as CTLA-4 and PD-1 thus prevent over-reaction by the immune system in normal circumstances. Unfortunately, tumors can subvert this mechanism to down-regulate immune attacks against them.
Recently, spectacular success has been achieved in treating cancer using immunotherapeutic targeting of CTLA-4 and PD-1. CTLA-4 was first described in 1987 and was the first co-inhibitor to be characterized; the first description of PD-1 was by
Tasuku Honjo
and colleagues in 1992. In 2007,
Taku Okazaki
and
Tasuku Honjo
reviewed the progress to therapeutic manipulation of immune checkpoints in cancer. We have recently published several other review articles in the journal that update the enormous progress that has since been made in our knowledge of immune checkpoints in cancer.
Click on the article titles below to read free online.
TABLE OF CONTENTS
PD-1 and PD-1 ligands: from discovery to clinical application
Taku Okazaki and Tasuku Honjo
Int. Immunol. (2007) 19 (7): 813-824
Therapeutic use of anti-CTLA-4 antibodies
Christian U. Blank and Alexander Enk
Int. Immunol. (2015) 27 (1): 3-10
Therapeutic uses of anti-PD-1 and anti-PD-L1 antibodies
George K. Philips and Michael Atkins
Int. Immunol. (2015) 27 (1): 39-46
Regulatory B cells in anti-tumor immunity
Yu Zhang, Nicolas Gallastegui, and Joseph D. Rosenblatt
Int. Immunol. (2015) 27 (10): 521-530
Mechanisms of tumor escape in the context of the T-cell-inflamed and the non-T-cell-inflamed tumor microenvironment
Stefani Spranger
Int. Immunol. (2016) in press [doi:10.1093/intimm/dxw014]
The role of neoantigens in response to the immune checkpoint blockade
Nadeem Riaz, Luc Morris, Jonathan J. Havel et al.
Int. Immunol. (2016) in press [doi:10.1093/intimm/dxw019]
Immune checkpoint inhibition in ovarian cancer
Junzo Hamanishi, Masaki Mandai, and Ikuo Konishi
Int. Immunol. (2016) in press [doi:10.1093/intimm/dxw020]
DID YOU ENJOY OUR FREE ARTICLE COLLECTION?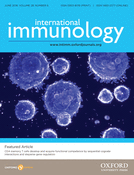 Continue to read
International Immunology
by purchasing a
personal subscription
or recommending the journal to your librarian today. Recommending
International Immunology
is easy. Complete our
simple form
and we'll take it from there.
Don't forget to sign up for journal
e-alerts
and stay up to date with articles as they publish online.