VIRTUAL ISSUE: MUCOSAL IMMUNOLOGY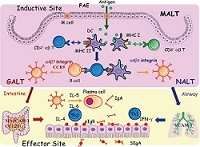 International Immunology
presents a special virtual issue comprising articles (original research and reviews) published recently on the topic of mucosal immunology.
Although our journal covers all areas of immunological research, mucosal immune responses are of course a particularly important topic for us. For example, the research article by Shuo-Wang Qiao et al. reported on TCR V-gene usage in patients with coeliac disease. Later that year, we published a free-access special issue of reviews on mucosal immunology; one of the reviews, by Tatsuhiko Azegami et al., reviewed oral and nasal vaccine strategies. The article by Hideaki Shima et al. described the successful use of an oral vaccine that targets M-cells.
The recent review by Burcu Temizoz et al. returns to the topic of vaccination, in particular adjuvants that can be used for immunotherapeutics in humans. The article by Ichino Chinen et al. defined how the aryl hydrocarbon receptor can regulate inflammatory bowel disease via IL-10 and the review by Ping Shen and Simon Fillatreau details the importance of IL-10-producing regulatory B cells interacting with gut microbes. The article by Boaz van Driel et al. revealed a role for adhesion molecules of the SLAM family in colitis triggered by Gram-negative bacteria; whereas Rhiannon Penkert et al. examined nasal infection by Sendai virus, which is exacerbated by vitamin deficiency.
Our final two articles are reviews by Naoko Satoh-Takayama and by Jeremy Goc et al., which provide a detailed update on group 3 innate lymphoid cells, especially in mucosal immune responses. We hope that you enjoy reading this collection.
Click on the article titles below to read free online.
TABLE OF CONTENTS
Biased usage and preferred pairing of α- and β-chains of TCRs specific for an immunodominant gluten epitope in coeliac disease
Shuo-Wang Qiao, Asbjørn Christophersen, Knut E. A. Lundin, and Ludvig M. Sollid
Int. Immunol. (2014) 26 (Jan): 13-19
Challenges in mucosal vaccines for the control of infectious diseases
Tatsuhiko Azegami, Yoshikazu Yuki, and Hiroshi Kiyono
Int. Immunol. (2014) 26 (9): 517-528
A novel mucosal vaccine targeting Peyer's patch M cells induces protective antigen-specific IgA responses
Hideaki Shima, Takashi Watanabe, Shinji Fukuda, Shin-Ichi Fukuoka, Osamu Ohara, and Hiroshi Ohno
Int. Immunol. (2014) 26 (11): 619-625
Vaccine adjuvants as potential cancer immunotherapeutics
Burcu Temizoz, Etsushi Kuroda, and Ken J. Ishii
Int. Immunol. (2016) 28, in press: doi:10.1093/intimm/dxw015
The aryl hydrocarbon receptor/microRNA-212/132 axis in T cells regulates IL-10 production to maintain intestinal homeostasis
Ichino Chinen, Taisuke Nakahama, Akihiro Kimura et al.
Int. Immunol. (2015) 27 (8): 405-41
Suppressive functions of B cells in infectious diseases
Ping Shen and Simon Fillatreau
Int. Immunol. (2015) 27 (10): 513-519
The cell surface receptor Slamf6 modulates innate immune responses during Citrobacter rodentium-induced colitis
Boaz van Driel, Guoxing Wang, Gongxian Liao et al.
Int. Immunol. (2015) 27 (9): 447-457
Vitamin A deficient mice exhibit increased viral antigens and enhanced cytokine/chemokine production in nasal tissues following respiratory virus infection despite the presence of FoxP3+ T cells
Rhiannon R. Penkert, Sherri L. Surman, Bart G. Jones et al.
Int. Immunol. (2016) 28 (3): 139-152
Heterogeneity and diversity of group 3 innate lymphoid cells: new cells on the block
Naoko Satoh-Takayama
Int. Immunol. (2016) 28 (1): 29-34
Group 3 innate lymphoid cells: regulating host-commensal bacteria interactions in inflammation and cancer
Jeremy Goc, Matthew R. Hepworth, and Gregory F. Sonnenberg
Int. Immunol. (2016) 28 (1): 43-52
FIND OUT MORE ABOUT INTERNATIONAL IMMUNOLOGY

International Immunology
publishes a broad range of experimental and theoretical studies in molecular and cellular immunology conducted in laboratories throughout the world.
International Immunology
is the official journal of
the Japanese Society for Immunology
, and welcomes submissions from society members, as well as non-members.
How can I stay up to date?
Take out a
personal subscription
to
International Immunology
or recommend the journal to your librarian by filling out this
simple form
. Once completed, we'll take it from there.
Don't forget to sign up for journal
e-alerts
and stay up to date with articles as they publish online.
Why publish in International Immunology?
・ International readership: more than 510,000 times full-text downloads from 185 countries in 2015
・ Fast publication: 23 days from submission to first decision, less than one week from acceptance to publication on average
・ No submission fees and no page charges
To find out more, visit our
Why publish in International Immunology?
page.