Figures
Content
Permissions
All copyright permission must be cleared and, if necessary, paid for by the author; this includes applications and payments to DACS (Data Access Control System), ARS (Artists Rights Society), and similar licensing agencies where appropriate. It is also the author's responsibility to include acknowledgements as stipulated by particular institutions.
Download the permissions instructions here.
Requirements
Submission of figures in an electronic format will help us to ensure that your work is produced to the highest possible standard. This page contains information on how best to prepare your artwork for electronic submission.

Most figure file formats are acceptable, although TIFF is preferable.

TIFFs (Tagged Image File Format) are used for bitmap, greyscale, and colour images. To save files in TIFF format, go to the 'Save As' or 'Export' commands under 'File'.

Before submitting artwork, please make sure that your image(s) fulfil the following criteria:
Formats
A number of different file formats are acceptable, including:
Tagged Image File Format (.tif)* (please check settings when exporting to Tiff from the original application).
Encapsulated PostScript (.eps)*
Rich Text Format (.rtf)
(Editable) Microsoft Word (.doc/.docx) (image files embedded into Word are often not good quality).
(Editable) Microsoft PowerPoint (.ppt/.pptx) (image files embedded into PoerPoint are often not good quality).
Microsoft Excel (.xls/.xlsx)
editable Portable Document Format (PDF)
Postscript (.ps)
Photoshop (.psd)
Adobe Illustrator (.ai)
Graphics Interchange Format (.gif)
Portable Network Graphics (.png)
*preferred file format. Note that .jpg is not a file format listed as files produced as JPGs condense every time they are opened (and thus lose quality).
A note about resolution and quality: PPI (Pixels Per Inch) vs DPI (Dots Per Inch)
The quality of an image is not dependent upon DPI. Typically when an image is of low quality (even though the resolution is within standards), the image contains pixelated text. This means that the figure should be redrawn using a standard font and that care should be taken to ensure the font is embedded.
DPI pertains to the print version of the image; PPI to the online version. The compositor will take care to convert the accepted figure files accordingly. It is important to note that maximum size should be set at 1081 width by 1280 height for PPI / 600 DPI for line drawings and a minimum 300 DPI for colour or tone images.
Graphics downloaded from the Web are not acceptable for print reproduction. These graphics are low-resolution images (usually 72 dpi) that are suitable for screen display but far below acceptable standards for print reproduction.
Please take care that images you supply are not simply low resolution figures that have been expanded. These types of images will appear pixelated when maximised.

Specific types of artwork
Bar graphs

Avoid the use of gray or color in bar graphs. Instead, please use solid black, solid white, and patterned (e.g., horizontally or diagonally striped) bars.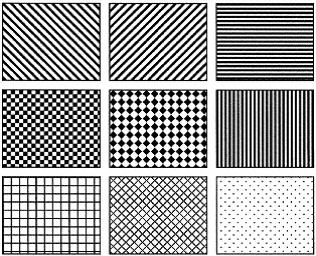 Line art

Line art is best reproduced when it is submitted as crisp black-and-white images and contains no unnecessary gray shading.

Patterns

If your image requires the use of many lines (as line graphs often do), please choose patterns that are easily distinguished from each other. Patterns with similar characteristics are hard to differentiate after reduction.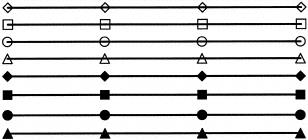 For additional useful information on preparing your figures for publication, go to http://cpc.cadmus.com/da.
Equations and tables
All equations to be formatted using MathType only; image versions should be avoided.
All tables to be in editable format in either Word or Excel; image and pdf versions should be avoided.
Requirements
Follow these rules for figures:
Number them consecutively following the sequence in which they are mentioned in the text.
Include scale bars where appropriate. These should not be placed in the legend.
Size figures for publication:

Figures must:
Be submitted for publication at resolutions of 600 dots per inch for line figures/black&white images and 300 dots per inch for half tones/color figures.
Use the same font type for all figures; use standard fonts such as Times, Courier, Arial, Helvetica, or Symbol.
Have embedded fonts. Embedding the fonts ensures that the text is retained within the figure during production.
Have uniform lettering style and ensure that figure locants are consistently sized throughout. Figures will not be redrawn by the publisher.
Have legends that define abbreviations and contain enough information so the figure can be understood independently of the text. Legends should be listed one after the other at the end of the main text document.
Be converted to grayscale if originally created in color but intended to be printed in black and white BEFORE acceptance.
Be saved in a separate file.
Always use the latest version of the software program available. Files from older versions often lose integrity when opened in newer versions.
Have layers flattened into one layer, if using any files consisting of layers (e.g., .eps).
Be saved as clearly named files so that they can easily be identified in terms of manuscript, figure number, and format (e.g. [first author surname]Fig1.tif).
Have figure legends/captions included at the end of the main text file. Please ensure that figures and figure legends/captions are in agreement. Symbols must NOT be included in figure legends; ALL symbols used in figures should be described in the legend/caption using words (e.g., filled triangle, open circle). Symbols may be used in the key within the figure artwork.
Have line weights between 0.35 pt and 1.5 pt; if there are multiple lines in use, use patterns to differentiate them. Do not use lines that are thinner than 2 points, including the "hairline" width option in some programs.
Have colour supplied in CMYK and not RGB. Please note that the use of red and green in figures is particularly problematic for approximately 5% of the male population. Advice on the preparation of colour-friendly figures is provided http://jfly.iam.u-tokyo.ac.jp/html/manuals/pdf/color_blind.pdf.
Have all data included within the illustration area.
Avoid placing labels over a shaded area of the image.
To find out more on figure submission, please visit the Instructions to Authors for the particular journal to which you are submitting. View the full list of Journals.