Collection packages for librarians
The 2017 Oxford Journals Collection features 324 prestigious and authoritative journals published in collaboration with some of the world's most influential and scholarly professional societies ensuring excellence in research, scholarship, and education.
The 2017 Collection includes highly cited journals in the fields of Medicine, Life Sciences, Humanities, Law, Mathematics and Physical Sciences, and Social Sciences.
Benefits for Libraries
Perpetual access to paid for content
Access to content dating back to 1996
Individual libraries (single and multi-site) and consortia can subscribe to the entire package, one of six subject packages, or a customized selection tailored to meet their needs.
More about the 2017 Collection
We are delighted to announce the addition of 19 prestigious titles to the Oxford Journals Collection for 2017, 16 of which are new to OUP including journals from the Congress of Neurological Surgeons, the Endocrine Society, the Royal Institute for International Affairs and the Linnean Society.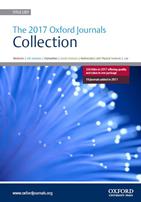 View the full 2017 Oxford Journals Title List (PDF)
View the full 2017 Oxford Journals Brochure
Specialist Collections
Customers involved in policy-making, religion or economics and finance may also be interested in a bespoke selection, ideally tailored to your fields.

For more information please contact us.
Subscription options
Collection subscriptions | Single subscriptions | Developing Countries Collection
The Oxford Journals Archive
With content from 1791-1995, the Oxford Journals Archive features articles from Volume 1, Issue 1, and allows users to enhance their current understanding by exploring changes in opinion over 225 years.
Oxford Young Journals
The Oxford Young Journals Collection includes 11 newly published titles whose launch we are supporting with an attractive 50% discount off their price for existing customers (online subscriptions only).