Activate online access
Online subscriptions - getting started
Institutions must purchase an online subscription or collection in order to access online content. Activation of organizational subscriptions should be carried out by your librarian/institutional liaison officer.
What are the benefits of online journals?
Content dating back to 1996 (or Volume 1) included with each online subscription
Simple online registration and administration
Open URL compatible linking
Access can be controlled via IP address or remotely via Open-Athens/Shibboleth
Usage statistics
I've paid for my subscription, what happens next?
1. Read and agree to our licence
Before registering for access to Oxford Journals, both personal and institutional subscribers must first read and agree to the terms of the relevant online license agreement. Licences options |Online licence agreement

2. Register your details with us via My Account
All online subscriptions for Oxford Journals will need to be activated before library users can access the full text or PDF of any article. While this may have been arranged for you by a subscription agent there are a whole host of benefits to also activating directly via this website. Click here to sign in to My Account.
Benefits of activating access directly with us:
View your current subscriptions and activate new subscriptions
Manage your preferences for e-mail alerting services
View usage statistics for your institution
Review and edit your IP ranges and Open-Athens/Shibboleth ID
Activate reference links that direct your institution's users to your local OpenURL-enabled link resolvers
Gain access to free sample issues from our journals
Manage your library/account administrator details
3. Activate online access
Your online subscriptions need to be activated via our website before full text and PDF articles can be viewed. You can do this by logging in to
My Account
and following the online prompts.
You will need the following details to activate your account:
Your contact details. Where possible please provide an e-mail address that is not personal to you (e.g. library@institute.edu)
A username and password. This is for library administrator use only, and should not be passed on to your users
Your subscriber number(s). If you have several subscriber numbers you will need to activate each one. If you are a member of a multi-site or consortium, we will activate access on your behalf
You can add or amend all of your subscription numbers via one My Account registration. Any new subscriber numbers must be added to the account in order to activate full access
The IP addresses that you want to register. Remote access is available via Athens authentication for participating organizations or via secure proxy server.
For more information please refer to our FAQ pages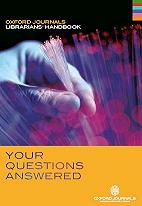 Activate online access now

Download our PDF help sheet (English) | French | Spanish | Italian | Portuguese | Turkish | Arabic | Russian | Japanese | Korean | Traditional Chinese | Simplified Chinese
Get help with IP registration
Read more about Athens authentication

Manage your online subscriptions
Technical information and standards
Update your library catalogue − using MARC records
Update your library catalogue − via OAI-PMH
Set up inbound OpenURL links
Set up outbound OpenURL links
Set up content alerts

Librarians' Handbook
The Librarians Handbook contains an introduction to, and usefully tips on, all aspects of online subscriptions from licensing and activating online access to updating your library catalogue and training library users.
Download the PDF
Request your free print copy