Case studies
Nucleic Acids Research
Nucleic Acids Research is the largest OUP-owned journal, publishing around 1,200 papers each year.

In 2004 NAR published its annual 'Web Server' and 'Database' issues open access. Following this, and after consultation with contributors and extensive market research, OUP and NAR's editors converted the journal from a subscription model to open access in 2005. This meant that anyone could access the content for free as soon as it was published and the content was available for re-use/re-purposing.

To cover the substantial costs associated with producing and developing a high-quality journal, authors are required to pay an APC (Article Processing Charge) of £1420/$2770/€2130. However, many authors get a 50% discount on these charges if their institutions have NAR membership or if they have already published another full-price article in the previous 12 months (through NAR's author loyalty discount scheme).

The graphs below show the change in revenue streams after NAR switched from a subscription journal to a fully open access journal: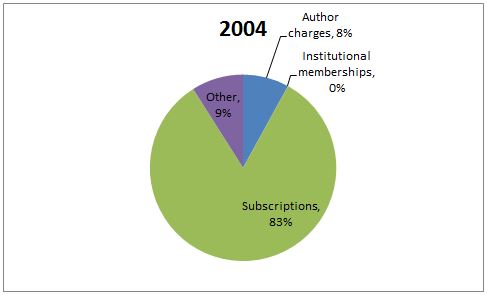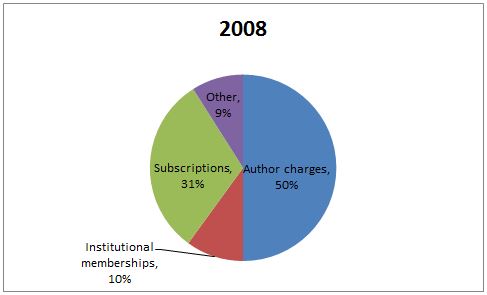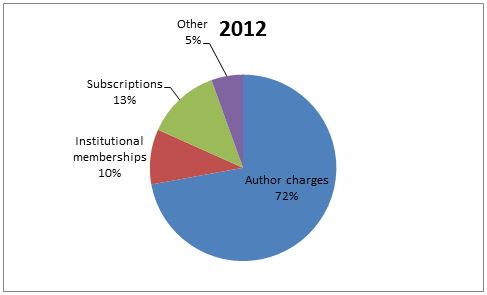 As you can see, in 2004 almost all of NAR's revenue came from subscriptions.

However, by 2008 half of the revenue came from APCs. Interestingly, despite all the content being freely accessible online, print subscriptions still made up a significant proportion of the overall revenue. 10% of the revenue also came from institutional memberships; universities or research centres can purchase NAR membership for the year which entitles their members/faculty to a 50% reduction on APCs.

In 2012, the number of subscriptions had decreased further, making up only 13% of the journal's revenue. The proportion of institutional memberships has remained steady since 2008 and APCs are now the journal's largest revenue source.
As can be seen from the figures below, NAR's Impact Factor and submissions have continued to grow since moving to an open access publishing model.

Impact Factor:


Submission Trends: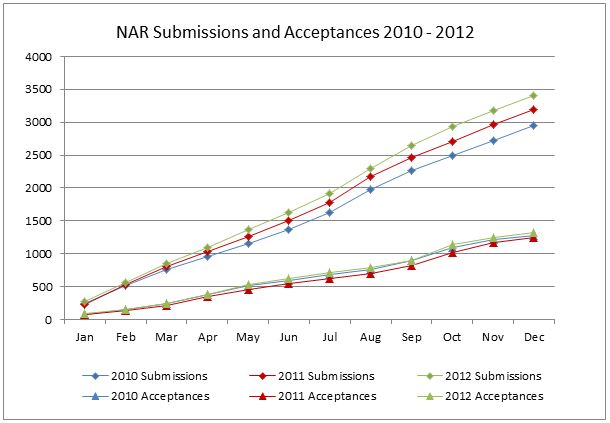 Bioinformatics
Bioinformatics is an optional open access life sciences journal. It consistently has the highest percentage of open access content of all OUP's hybrid journals. Optional open access uptake is, across all publishers, generally very low (around 2%, according to recent research undertaken as part of the PEER (Publishing and the Ecology of European Research) Project. However, Bioinformatics has a much higher level of uptake: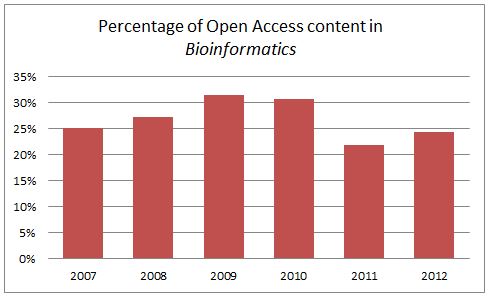 One of the main reasons for this is that many members of the bioinformatics community are highly motivated to make their work available OA. Another highly influential factor is the greater availability of open access funding in this area from organisations such as the Wellcome Trust (all our biomedical journals have comparatively high levels of open access uptake) and that research funding bodies are increasingly mandating open access publication as a condition of their grants. Click here for more information about complying with funder policies at OUP.
Database
This well-developed funding infrastructure and enthusiasm in the academic community meant that in 2009 OUP was able to launch an innovative, fully open access journal, DATABASE: The Journal of Biological Databases and Curation. The journal publishes detailed descriptions of databases, database tools and curation strategies in the broad arena of biology, as well as shorter papers describing significant updates to established databases. It also features reviews of complementary databases and database tools, as well as user tutorials and technical notes on database developments. As such, it complements other OUP life sciences journals including Bioinformatics, NAR, and Briefings in Bioinformatics.

The number of articles published in DATABASE has grown steadily since 2009 as the graph below indicates: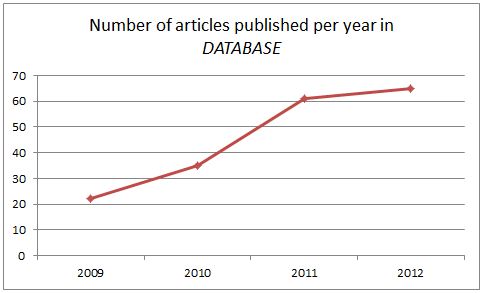 DATABASE received its second Impact Factor in 2012 of 4.200, placing it as the 5th highest ranked journal in the Mathematical and Computational Biology JCR category.
Journal Of Legal Analysis
Founded in 2009 at Harvard, the Journal of Legal Analysis (JLA) was one of the first significant open access launches in law. OUP joined forces with Harvard in 2011 to publish the JLA and the journal is currently thriving in its fifth year. It publishes highly influential work and is ranked 3rd of all refereed law journals by the Washington and Lee Law Journal rankings.

The JLA operates in a very different way to most scientific publishing open access journals. JLA doesn't levy APCs – authors can publish for free, just as they would in a subscription journal. However JLA articles are still freely available at the point of use, with liberal re-use rights for authors.

JLA is able to publish in this way because of the sponsorship it receives from the Considine Family Foundation and the John M. Olin Center for Law, Economics and Business at Harvard Law School. There are no guarantees that the JLA would be able to operate without the backing of Harvard, the Olin Center, the Considine Foundation and OUP.