Research Councils United Kingdom (RCUK)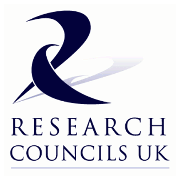 RCUK Public Access Policy
The RCUK requires that 'research papers which acknowledge funding by the RCUK must be published in journals which are compliant with Research Council policy on Open Access'. Journals can achieve compliant status in two ways:

- Gold Open Access: The Journal provides via its own website immediate and unrestricted access to the publisher's final version of the paper (the Version of Record), and allows immediate deposit of the Version of Record in other repositories without restrictions on re-use. The Creative Commons Attribution licence (CC-BY) must be used.

- Green Open Access:The Journal must allow deposit of accepted manuscripts in repositories, without restrictions on non-commercial re-use, within 6 months of publication for science, technical and medical (STM) disciplines, or 12 months for humanities and social sciences (HSS). If a Journal offers Gold open access with CC-BY, but it is not chosen due to lack of funds, then an embargo of 12 months for STM disciplines, and 24 months for HSS will be compliant. This scenario is depicted by the Publishers Association decision tree below.*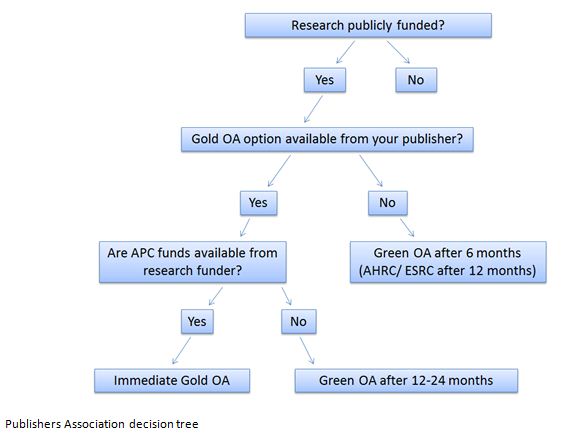 RCUK and Oxford Journals
Oxford Journals are compliant with RCUK policy. The majority of our journals participate in our Oxford Open initiative, which enables authors to publish their articles open access, under a CC-BY licence. This allows authors to comply with the RCUK policy via the Gold open access route.

In addition, the majority of Oxford Journals have 12 or 24 month embargos (varying by discipline**). As such, in the event that an author lacks the funds to pay to publish open access, they can achieve compliance by publishing in an Oxford Open journal under the subscription model, depositing their article after 12/24 months in a repository. This allows authors to comply with the RCUK policy via the Green open access route.
Which Research Councils form RCUK?
Research Councils UK is a strategic partnership of the UK's seven Research Councils:

Arts and Humanities Research Council (AHRC)
Biotechnology and Biological Sciences Research Council (BBSRC)
Engineering and Physical Sciences Research Council (EPSRC)
Economic and Social Research Council (ESRC)
Medical Research Council (MRC)
Natural Environment Research Council (NERC)
Science and Technology Facilities Council (STFC)

If your work is funded by one of these councils then you will be required to comply with RCUK's open access policy.
* The allowance of longer embargo periods does not apply to research funded by the Medical Research Council (MRC) which must be deposited in Europe PMC within 6 months of publication.

**The exceptions to this rule are the Japanese Journal of Clinical Oncology and the European Journal of Public Health which both have a six month embargo.