OUP Open Access prepayment account
The OUP Open Access Prepayment Account allows institutions and funders the chance to deposit funds with Oxford University Press which eligible authors can draw upon to pay open access (OA) charges.
Authors can easily refer their Article Processing Charges (APCs) and ancillary publication charges to their institution for payment; an online process allows authors to select their institution and provide a few details to confirm their eligibility for use of funds. The account holder can then review requests through a secure online dashboard, verify author details, and quickly approve payment.
We offer an enhanced open access service to authors, institutions, and funders.
Account holders have access to a secure online dashboard for the efficient management of article charges, full article information, and enhanced financial reporting.
The range of benefits includes;
Flexibility- The service allows for different institutional and funder policies. Authors are able to refer APCs and ancillary publication charges (page/colour figure) to an account via a simple online process. These appear separately on the dashboard alongside the paper and licence type. Account holders can review the licence type signed and approve charges they are able to pay, or return to the author.
Control- Account holders can choose how much they wish to deposit*, how often, and have full control over how the money is spent; including a simple process for topping up the balance and the ability to 'roll-over' unspent funds year-to-year. Account holders have access to account history including financial statements, payment confirmations, author information, and details of OA publications, all stored on a secure account dashboard and available to read and download for up to two years.
Ease of Use- The online dashboard is designed to simplify the administration and management of OA funds. Account holders can review details of charges and article information, and complete payments via a simple approve/reject process. Automated notifications keep both the account holder and author informed of the referral process and outcome. Full account support is provided by our Journals Customer Service team.
Cost Saving- Account holders will receive a flat rate discount on all APCs paid though the Account. The administrative efficiencies to institutions/funders should also amount to cost savings in the long run, as the burden of processing individual APCs is significantly reduced.
*minimum initial deposit amount required
The Open Access Prepayment Account, currently in pilot at a number of UK/European institutions, is due to launch as a full service in 2016.
Contact Us
If you are interested in finding out more about the OUP Open Access Prepayment Account, please contact us at prepayments@oup.com
Find out more about Open Access at OUP
Account holder dashboard
The Dashboard provides a unique and custom-built facility for the management of publication charges via a user-friendly interface. Account holders can use the Dashboard to review and track referred charges and payments through an up-to-date display as well as storing the account history of paid charges.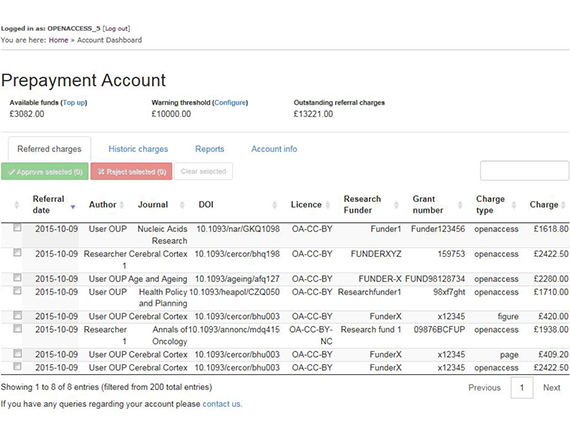 The Dashboard also stores a wealth of information on open access articles which can be reviewed and downloaded. Monthly financial statements and individual charge confirmations are automatically stored for up to two years, and can be downloaded directly from the Dashboard.
Frequently asked questions: account holder
Information for authors
The Prepayment Account offers a simple process for qualifying authors to refer charges on their open access paper for payment by their institution or funder.
Simple Referral Process for Authors
Our online Author Services system guides authors through the licence selection and agreement process, allowing eligible authors to refer their Article Processing Charge (APC) and other related publication charges to their institution or funder prepayment account. We recommend that authors check the institution or funder's policy on open access before they select a publication licence, to ensure eligibility for funds.
When referring charges, authors are asked to provide contact details, details of their research funding (including name of funder and grant number), and provide a short statement to support their charge referral. These details are sent on to the institution or funder for a representative to review via their Account Dashboard. The Account Holder can agree to pay the charges, or return the charges to the author. If returned, the author will need to complete payment of the charges via another method.
Automated emails keep the author informed of the process and outcome of their charge referral.