Best of Briefings
Explore the best of OUP's Briefings journals—two international forums for researchers and educators in the life sciences.
Briefings in Bioinformatics will be of interest to mathematicians, statisticians and computer scientists who apply their work to biological problems. The journal publishes reviews for the users of databases and analytical tools of contemporary genetics, molecular and systems biology and is unique in providing practical help and guidance to the non-specialist in computerized methodology.
Briefings in Functional Genomics reviews the techniques, protocols and approaches in genome research. The journal aims to provide a centralised resource for researchers in the field of genomics as well as give guidance to scientists new to this area.
Briefings in Bioinformatics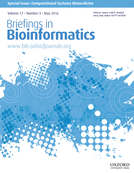 A survey of current trends in computational drug repositioning
Jiao Li, Si Zheng, Bin Chen, et al. (2016)
Integrative approaches for predicting microRNA function and prioritizing disease-related microRNA using biological interaction networks
Xiangxiang Zeng, Xuan Zhang, and Quan Zou (2016)
The digital revolution in phenotyping
Anika Oellrich, Nigel Collier, Tudor Groza, et al. (2016)
Translational bioinformatics in the era of real-time biomedical, health care and wellness data streams
Khader Shameer, Marcus A. Badgeley, Riccardo Miotto, et al. (2017)
An analysis of human microbe–disease associations
Wei Ma, Lu Zhang, Pan Zeng, et al. (2017)
Briefings in Functional Genomics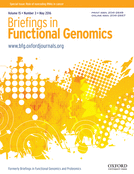 Translatome profiling: methods for genome-scale analysis of mRNA translation
Helen A. King and André P. Gerber (2016)
Navigating yeast genome maintenance with functional genomics
Vivien Measday and Peter C. Stirling (2016)
Long noncoding RNAs in hematopoietic malignancies
Norma I. Rodríguez-Malavé and Dinesh S. Rao (2016)
Chromatin organization in pluripotent cells: emerging approaches to study and disrupt function
Clara Lopes Novo and Peter J. Rugg-Gunn (2016)
MECP2, a multi-talented modulator of chromatin architecture
Floriana Della Ragione, Marcella Vacca, Salvatore Fioriniello, et al. (2016)