The Impact of Massage Therapy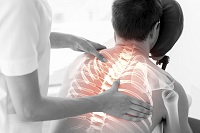 The effect of simple human touch, particularly in the alleviation of pain, is one of the oldest approaches to healing known to humankind. There is growing evidence for its efficacy against pain that has been summarized in this series of Pain Medicine​. This series of three systematic reviews [1–3] demonstrates good evidence for massage in the management of musculoskeletal pain, cancer-associated pain, and surgical pain.
Funded by The Massage Therapy Foundation, through the support of the American Massage Therapy Association, Samueli Institute, using their Rapid Evidence Assessment of the Literature (REAL©) process.
The articles within this special series are open access.
Want to gain access to all of Pain Medicine's articles?
Articles